A peaceful night in the 7th Day Adventist's church grounds. I thought God wouldn't mind us camping there, but wasn't so sure about the local congregation. As it was, we didn't see a soul.
My new granddaughter has arrived. Siena Rose was born on Monday evening at 19.21 weighing 8lbs 6oz. Am pleased to report, both mum and baby are fine.
This morning's drive was much more scenically attractive than yesterday, which was rather dull. Once out of Vanderhoof, we passed many lakes, interspersed with farmland. We have been driving on the Yellowhead Highway. I wonder if it has received its name from the incredible abundance of dandelions. I doubt it, but the verges, and uncultivated fields are just blanketed with yellow. It seems very spring like with the yellow dandelions, lush greens from the newly unfurled leaves and the blue sky.
The forests here seem much healthier than in the Jasper National Park. Jasper was a really sorry sight. The trees are dead or dying from attack by Mountain Pine Beetle. Apparently over 90,000 of the 200,000 hectares are affected.
Once again numerous signs warned us to beware of wildlife. The only moose I have seen today was a large, blue, painted, wooden one advertising an antique shop. We saw 2 deer frolicking beside the road and that was it.
Throughout the day we have passed interminable, slow moving trains. They seem to go on forever. Either double stacked containers or oil tanks. Yesterday we saw the Rocky Mountaineer, the famous tourist train, beside us.
This afternoon we came across a canoe in the middle of the road. (How can you not notice/hear a large canoe falling off your vehicle?) We thought it might be useful to us. However, once Dennis checked it out, he decided it was too much to add to our collection of "stuff" already on the roof. And there was no paddle. We would not want to be stuck up a creek without one 🙂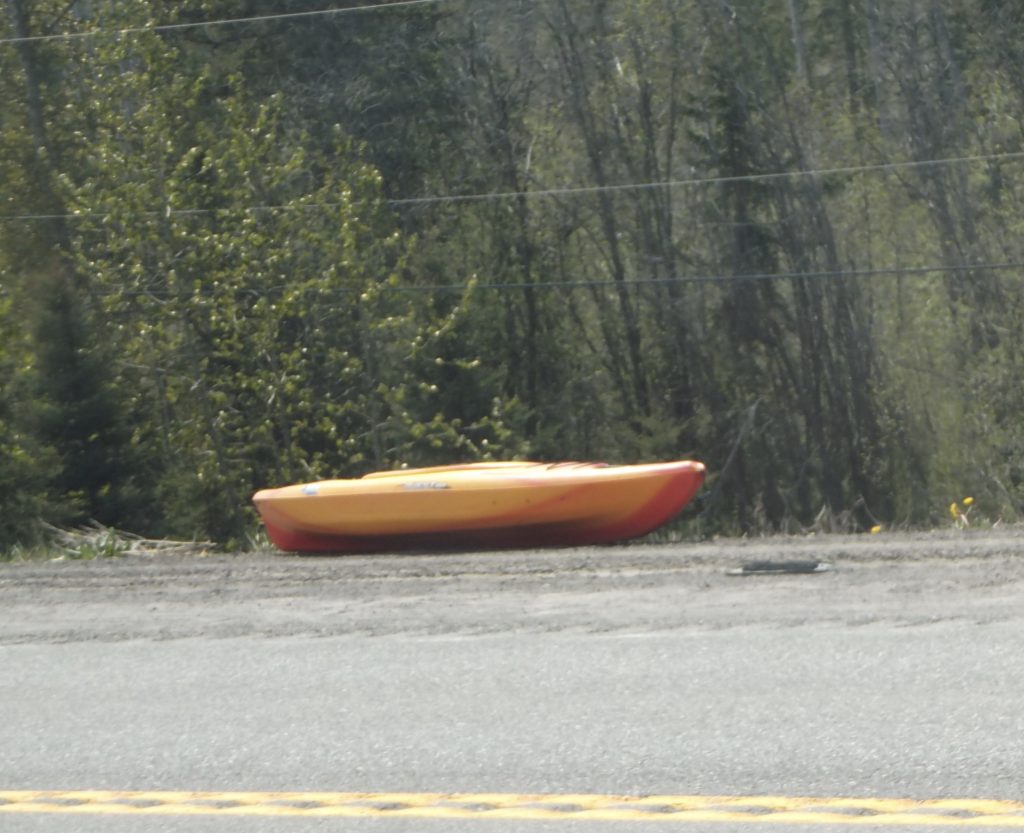 As the day has gone on we have come closer to high mountains again. We have camped at Seeley Lake Provincial Park, a very pretty spot. The lake is teeming with either tiny fish or tadpoles. I can't make out which as when I approach the bank they all dart off at a rapid rate of knots into the reeds. We have stopped early tonight and this is a pay campsite ($20).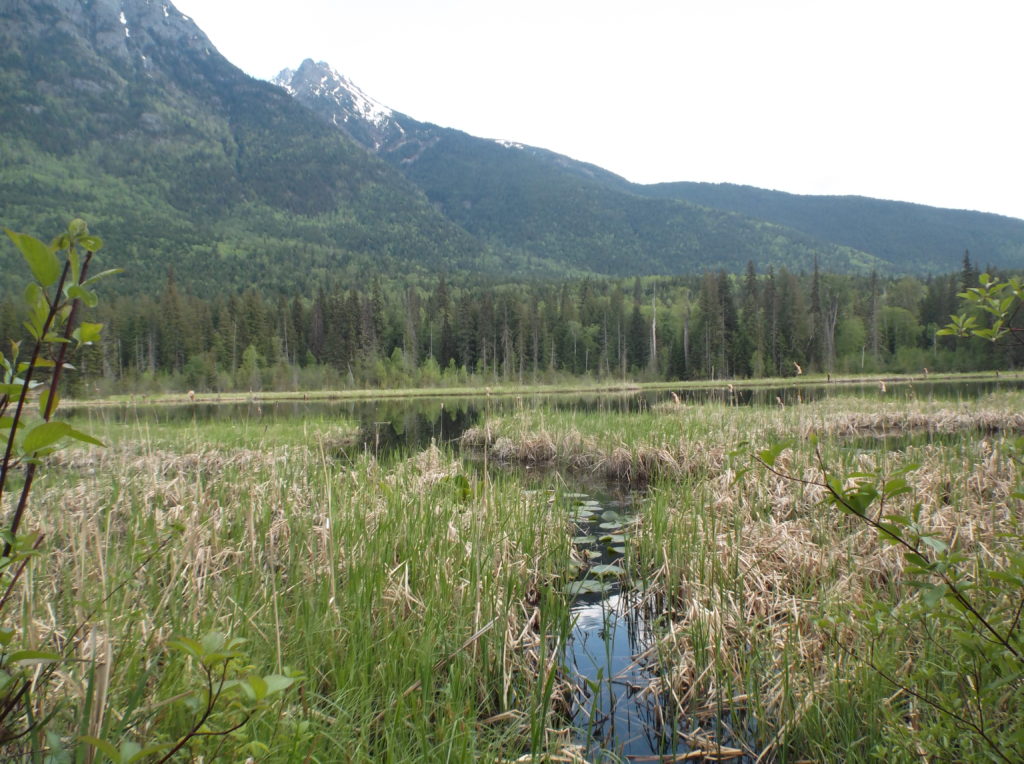 We did not want to start heading north on the Stewart-Cassiar Highway as the map shows nothing in the way of camping or townships for a considerable distance. 
We anticipate being in Alaska in around 3 or 4 days.
Hits: 38