A great camp site except the showers are a disaster. Never mind. It has dawned anther lovely day.
The drive north west from McBride is through fairly sparse habitation and not as picturesque as previous but it's relatively light traffic. The clutch is now working trouble and leak free.
There were several bear sightings. One blighter was sitting happily chewing grass but decided to pack up and leave once we pulled up about 20m from him. We just managed get a pic as he ambled away. Damn tourists!!
Around lunchtime we decided to head down a side track to Lake Purden. In front of us was a black VW Toureg. On pulling up at the lakes side, the driver hopped out and wanted to know which one was the Pom. Tony and Jill are on their way back south from Alaska and regaled us with some amazing wildlife sightings further north.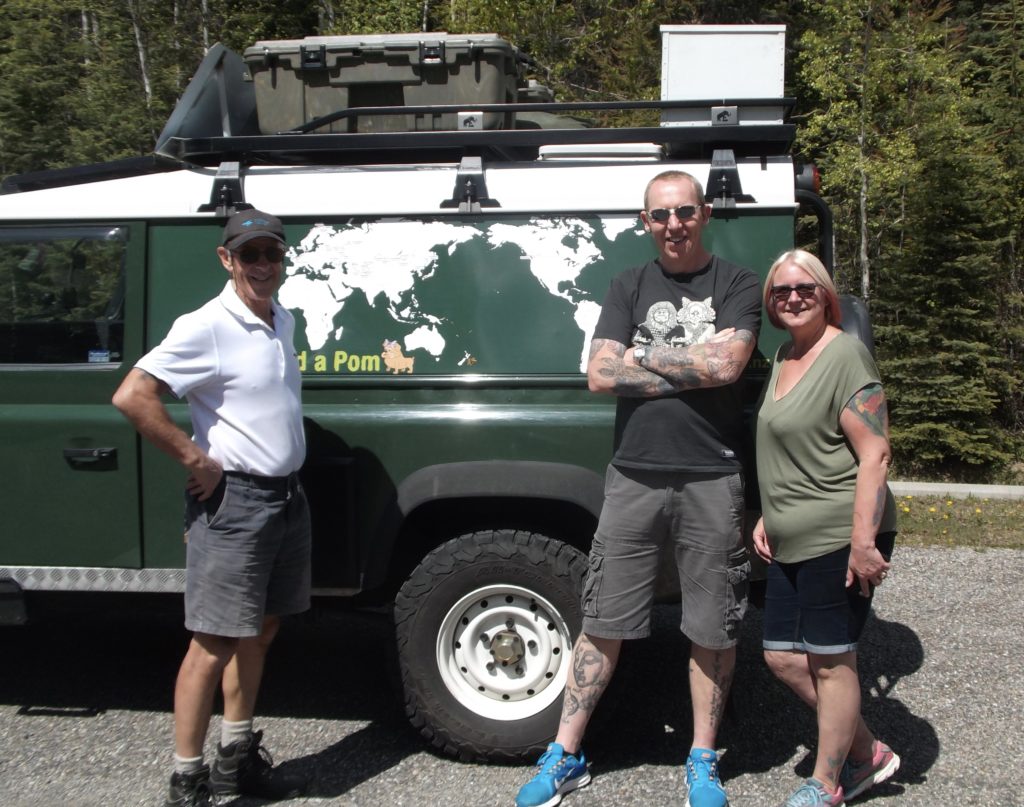 Tony is ex British Army and was interested in our wagon. Said he is pretty familiar with them. He's a mechanic. They are from Doncaster in Yorkshire. I had a loose association with Doncaster. In the 60's the company I worked for in Mitcham, Surrey. Cementation, had a depot there. I was a lowly store man but bought the managing directors car, which I drove to work in every day..:)
After lunch there were still 80k's to Prince George. Expecting a dreary country town. Anything but. It's a thriving modern, bordering on a city.
Wifi has been a major issue for us since arrival. We'd bought a SIM card in Vancouver, hoping it would work in our Russian modem. Alas, so we tried various combinations of putting it in my stone age but beloved Nokia and using it on Bluetooth. Couldn't sync them.
A year or so ago I bought a brilliant "Kiwi" mobile smartphone for a GREAT price from a very honest Pakistani gentleman in a repair shop in Rotorua. It looked brand new but I didn't realise that the battery was anything but and in fact, kaput, nearly. Thats the second time I have been scammed by a genial sub continent gentleman. Slow learner..:).
Anyway, the helpful assistant at Rogers kiosk in the Pine Centre Mall quickly sorted the tethering on it, for us.
Looking for a camp site that we don't need to pay for, proved a bit tricky so we are now camped at the very back of a 7th Day Adventist church out in the styx. It's late for us. 7.30pm.
Hits: 45