Fortuitously the morning dawned fine and the dreadful winds of yesterday have abated. It is overcast and very soggy, though, with water running everywhere as the roads are so steep they have turned into rivers.
Our hotel room looks like a Chinese Laundry with wet clothes hanging everywhere. Not drying weather and I am trying to get all our bedding and towels clean before we leave. It is a pleasant hotel. We have a separate, studio type room which is on a lower level to the main hotel. The Land Rover is parked above it in a quiet courtyard. After a good breakfast, I do some interior tidying up while Dennis does some email correspondence. Dennis then spends the rest of the morning giving the exterior of the "Old Girl" a good clean. It's a long time since she had one of those! Then the hotel are chasing us to check out. Unfortunately we can't carry on staying here as they are fully booked, apart from a suite at a ridiculous price. So, we are on the move again.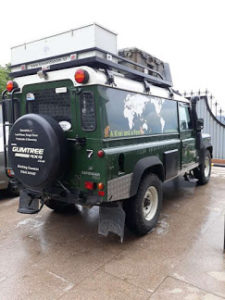 These Russian cities never cease to amaze me. Google Maps takes us to the new hotel. We set off down the side of a mountain on in tiny road with the most enormous potholes and water teaming everywhere. I often think the mapping app has got it wrong, but once off the main roads, the side roads are abysmal. Even worse here, because it is so steep in places. It was the same when we came to the new hotel. Really grim. Google Maps said we had arrived and we were in some  dirty industrial looking complex. There was a guard at the entrance so we asked his advice. He didn't understand but a young guy walking past asked if we wanted "hotel?". Pointing behind us. It was up on the next level. We had driven right past it!
The hotel is a reasonably modern building, but next door is all ex Soviet era and tumbledown. Our room is similar. The bedroom wall, an exterior wall has obviously leaked at some stage and looks far from pretty. The bathroom, however, appears like something out of a glossy magazine. Don't be fooled though, the bath leaks. The plumbing is a disaster. Still the staff are lovely and we are parked right outside, so it is easy to get to the Land Rover.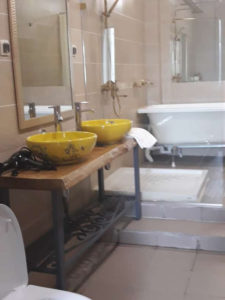 After we arrived we asked if there was a supermarket close by. "Yes, just a minute away", we were told by the receptionist. We looked puzzled as the building she was pointing at looked derelict. Setting off, we thought is must be beyond the derelict building. Once again we finished up in the industrial yard with the guard at the entrance. He sent us back to the derelict building. We then noticed an entrance beside this building with lifts to a lower level. Down here was a huge hypermarket stocked with everything you could want. Amazing. From the exterior we had no idea it was there. First on our list was some Russian bubbly. We said we would buy a bottle to celebrate our arrival and as it is also my birthday to tomorrow, we definitely needed to indulge.There were delicious looking cakes too, so we thought we had better buy one of those. Unfortunately it looked too yummy and got eaten for lunch. So, it will either be a birthday cake free day tomorrow, or I may have to go back to the supermarket.
Our air conditioning wasn't working so Dennis went down to reception and the receptsaid he would get his man to come and have away look at it. Easy problem to fix. It works better with the AC controller rather than the TV remote 🙂 A few minutes later there was a knock at the door. It was the receptionist. He introduced himself. His name is Roma. He said he had been reading our blog and asked if he could give us any information about Vladivostok and what to see. He speaks good English and is also a Chinese translator. He has given us some tips for tomorrow when we hope to have time to do a bit of sightseeing.
Hits: 56