Great sleep in solitude and a beautiful day has dawned. We were expecting our hosts this morning before we left but as they said they would only come if they had the time, decided not to wait and headed back to the main road.
A new motorway (tolled) gave us some respite from the endless towns and the congestion that went with the older untolled road.. Approx 40k's long it was a huge relief to be out of the truck queues and endless traffic lights, but not cheap at approx $10 or £5.50.
Moscow!!!! This place is MASSIVE. Jen was amazing navigating us through the jammed traffic, ensuring we took the right motorway exits and stayed on track. At 2pm we stopped for lunch and to re assess our objectives. First. Find the Land Rover dealer and get the bits we wanted was the priority. Second was find the camp site on the other side of the city, 40k's away. Third if we had time, get to visit the central city and touristy bits.
We succeeded on the first two but decided to flag the city tour. There is so much congestion. I guess the World Cup has added another layer to the already bursting city. Modern high rise apartment blocks, hundreds of them and massive, each one. This is a very different city to St Petersburg. Modern, affluent, bustling and dynamic.
The camp ground was found and I have very vague recollections of it 48 years ago. I remember we three were picnicking on a grassy area and a guy was motioning for us to come to him in the bushes nearby. Ignoring him he ducked down and ran over to us, saying "we have to tell the outside world about what is going on here"!?
The wide city streets were deserted and driving was a breeze. It helped that a person asked us if he could catch a ride with us, which helped with directions. On reflection I am sure he was a security agent. One of my companions was an electrical/electronic engineer and had been working on a secret torpedo building facility in the UK. We were unsure if they knew that, though.   I had my 26th birthday here. Yesterday was it?
After setting up camp Jen said, lets do some much needed washing. Great, as we were able to get 5L bottles of hot water from an adjacent shower block.
The hand washing machine (standing on the table) is brilliant. A gift from daughter Sarah in Canada.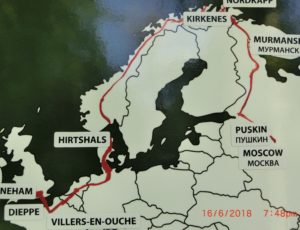 We are going to head east tomorrow and flag the city tour. We'll come back another time.
Bed time.
OOooops I know you will be anxious to know. All Blacks 26- France 13. Scrappy game it seems.
Hits: 20