Dennis tells me, since we left the UK in 2018, we have logged 67,508 miles or 108,643 kms.
This morning we woke to very different weather conditions. Grey, cloudy skies and a strong wind. Only 14 degrees too. Only having cold water in the shower, didn't go down well.
The journey to Kafue started on a reasonably good tar sealed road. A UK registered Toyota passed us. Later we passed it, pulled over by the police for speeding. After stopping by the roadside for lunch, the Toyota pulled over. Dennis went to chat with the driver, Ian, who had stopped to ask if we were okay. Despite being a British registered vehicle, Ian lives in Kenya.
After lunch the road quickly disintegrated into potholes. Once passed the town of Mazabuka it became a good road again. All morning the scenery had been dull and boring. Scrubby vegetation, much of it burned. Villages more reminiscent of West Africa. People everywhere.
After lunch the scenery improved with mountains in the distance. Once we entered the flood plain of the Kafue River there were vast areas of farmed land. Bananas, sugar and alfalfa. Other unidentifiable crops which had been harvested too. 
Zambia, formerly Northern Rhodesia, is a landlocked country. It does, however, have 3 major rivers. The Kafue, the Luangwa and the Zambezi. The Zambezi flows through the Batoka Gorge into Lake Kariba, formed by the Kariba Dam. It is one of the largest artificial lakes in the world and we are heading there tomorrow.
Our camp for tonight
Tonight we are camped at Chita Lodge in Kafue. We stopped early as camping places are few and far between. This is not really a campsite but a lodge. We are camped on a grassy area beside the swimming pool. It is supposedly the children's play area. There is no one else here, though. A few ostrich are wandering around and there are cow pats in the grass.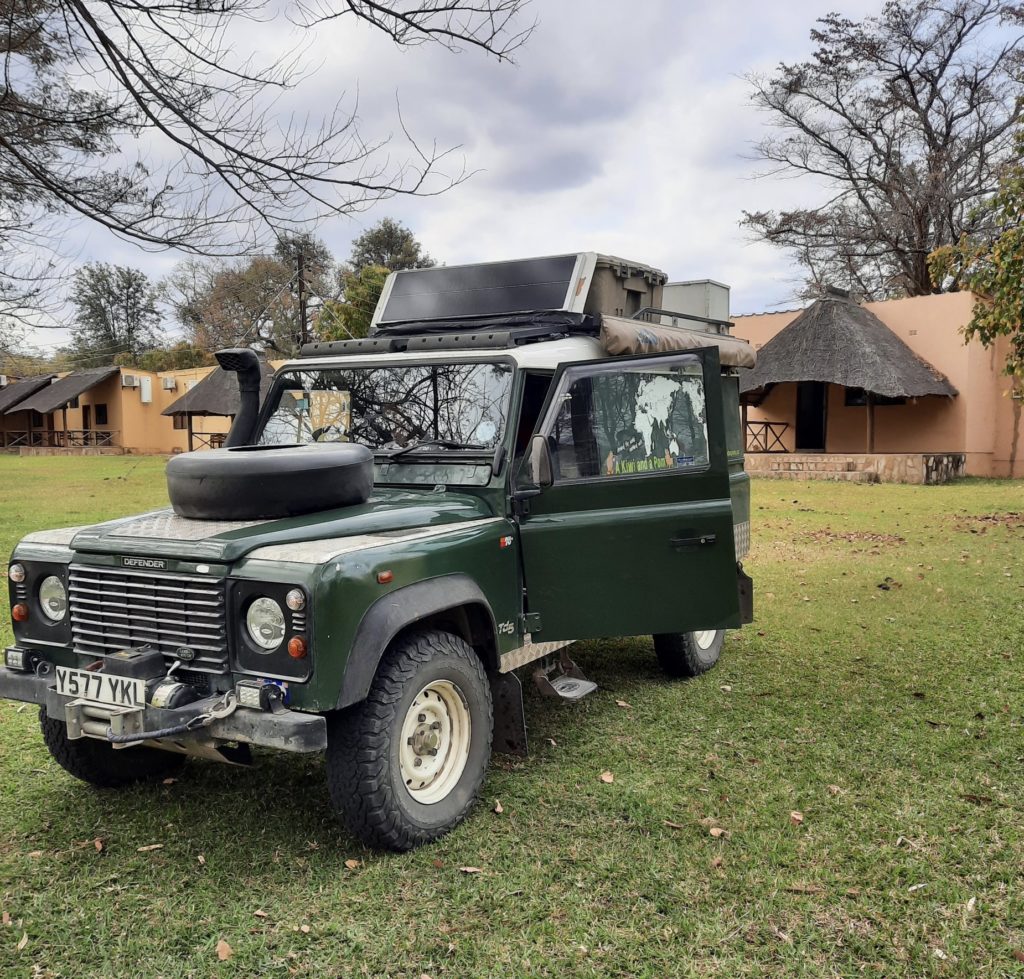 We have a key to one of the chalets, behind where we are parked, to use the bathroom facilities. It was probably once quite a smart place. I don't know if having no tourists during Covid has led to it decaying, or if it is just general African malaise.
When we arrived there was no power. That did come back on, but then Dennis discovered there was no water. Dennis walked up to Reception and the young lady told him the water was coming. Hopefully, they will turn the pump on, as Dennis wants to have a shower. He's not very impressed as we've paid USD25 for camping here. That's not cheap for Africa.
Hits: 57