After a most enjoyable dinner and get-to-gether of the Three TD5 Group last night, it was time to bid them farewell, today.
Before doing that, there was an obligatory photo op. outside the camp office. I don't known how the other four made at 9.30am, as they managed to polish off a full bottle of Gordon's Gin last night…:) But make it they did.
With Chloe being the Artistic Director, arranging people and vehicles perfectly, many photos were taken. It was with a great deal of sadness we left them, and set off for AutoZone and to refuel. I am sure we will see Troy and Kez(a Kiwi and a Pom) at some point in the future, when we are all back in NZ. They live in the Deep South Island, though Troy hails from Northland. Just maybe, we could tempt Harry and Chloe to make the journey too? What do you say guy's?

Three amazing machines and excellent companions. L-R. Us, Kez & Troy, (Pom and a Kiwi) Chloe & Harry (Poms)
Luckily AutoZone had one TD5 oil filter left and the right oil, Castrol Magnatec 5w40. Now we have to find a quiet spot where I can dig a deep hole and drain the old oil, before filling her up with new stuff. Ssshhhh.
The road east out of Maun is sealed all the way to the Nxai Park Gate. En-route there were groups of up to a dozen Elephants gathering at points all along the road side. There is obviously a water line, or is it sewage, and about every kilometre the Elephants had pushed the heavy concrete lids off their seats and were spraying themselves with, and drinking, the liquid!!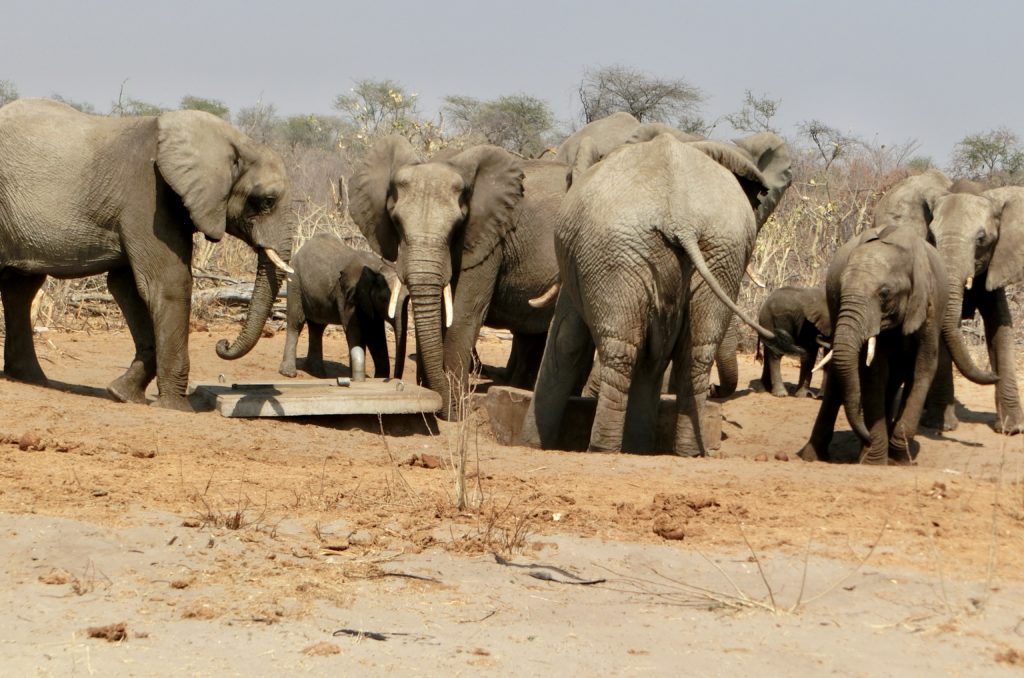 Nxai Nature Reserve
While Jen went into the Park Office and had to mortgage the house to achieve entry and pay for a camp site, I let the tyres back down in anticipation of more deep sand. One would think that with the exorbitant fees they charge, they would put the grader over the road once every few years. Not so.
It was a 30k drive from the gate to the camp site. 30k's of alternating deep sand/dust to severe corrugations. Again I found the most comfortable speed to be around 60kph but it made for a nail biting ride as the tracks would throw the vehicle left and right without input from the steering wheel. Jen was on the seat edge all the way…:)
It's getting warmer. It's nearly getting hot, and I suspect as we track North and September approaches, it's going to get very hot.
After a 2.30pm lunch we now await the coming of dusk before heading to the only waterhole in the park, to see what animals arrive.
The ablution block is surrounded by concrete mounds each with a sharpened steel spike and then surrounded by a high, possibly electrified fence, in an effort to keep the animals out. In an area where water is obviously scarce, the elevated water tank is spewing water to the ground below. Clearly a broken stop cock but it's probably been like that for months! The ablution block is otherwise, clean and adequate.
Around 4.30pm we joined a group of other vehicles which included a Puma Defender. The two occupants were members of the Land Rover Owners Club of Johannesburg. So, we tagged along as honorary members..:) The objective, to sit by a water hole and see what turns up.
For a while it was a solitary young male Elephant who was attempting to drink the hole dry. Every now and then he would raise his trunk, sniffing the air. Sure enough, about 30min later 5 more arrived. Other than those, a solitary Giraffe and four Jackal's made a cautious arrival.

Elephant paths. Some worn deep in the dirt.
By 6.15pm impending darkness forced us to return to camp. At least there are no dogs to bark at shadows tonight. It's going to be a warm night though!
Hits: 80