On the road by 9.30, we had about 130 kms to travel to the Namibia/Botswana border at Ngoma. Apart from a short 6km stretch, it was all tar seal. The villages en route are all very well kept. Mainly mud brick with immaculate thatched roofs, but some of the larger villages have some cement buildings with iron roofs. All are surrounded by tall, reed fences.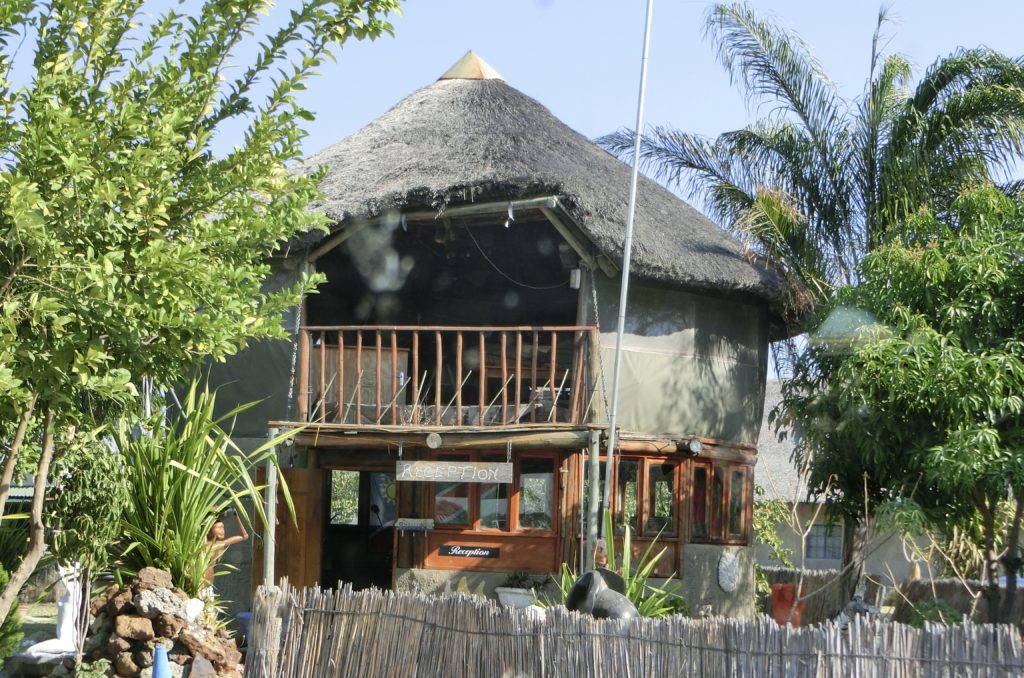 Kolosi Community Camp and Bush Lodge reception building.
We wanted to have lunch before we reached the border. Our South African neighbours of the day before yesterday, had advised us that Customs at the Botswana border are very strict and will confiscate any fruit, vegetables and meat. We had lettuce, tomatoes, cucumber and avocados, so I wanted to prepare a salad for our lunch, so we had eaten most of the veggies. We had finished all the meat last night.
As we were getting close to the border it was an early lunch. We still had quite a few tomatoes and some fruit left, so we had a rearrangement hiding them in our dry food storage box. The fridge had just one tomato and one apple left. We could afford to lose these.
Crossing into Botswana.
We reached the Namibian side of the border at just before 12.30. There was quite a queue at immigration. A mixture of tourists and local people. The queue move reasonably quickly. Our passports were stamped and, conveniently, Customs and Police were in the same room. Customs weren't interested in us and sent me to the Police Counter. An officer stamped my road tax form as being cancelled. Then we were on our way.
It was about a kilometre before the Botswana side of the border, across the river. Again there was a bit of a queue here. It moved reasonably quickly. Once again immigration and Customs were at neighbouring counters. After our passports were stamped, the Immigration Officer passed me a form to give to Customs.
The only thing the Customs man asked Dennis to do, while I was in the office, was to dip his sandals in disinfectant in a scruffy looking trough. No search, or even asking if we had fruit and vegetables. Apparently he was more interested in the map on the side of Poki. All our efforts to hide our fruit and veg. we're unnecessary.
The Customs lady stamped our Carnet and issued us with a form for insurance and road tax. The cost was 470 Pula. (approx £28) Fortunately payment was by credit card as we had no local currency. The Botswana currency is the Pula. There are just over 17 Pula to the GBP.
There are no facilities for changing money, buying a SIM card etc at the border. We drove to the nearest town, Kasane, 55 kms away. Here we found ATMs for cash, a large supermarket to get some more provisions and a shop selling SIM cards. So, we are now set up to travel in Botswana.
Finding a camp.
We are on the edge of Chobe National Park. Kasane seems very touristy. There are safari park vehicles everywhere. Chobe Safari Lodge had been recommended to us for camping. While I went to reception to see if they had a site for us, Dennis had met a young Irish man, Ian Horan. I was not successful, the place was full. On my return Dennis and Ian were deep in conversation.
Ian was riding an Australian purchased and registered motorcycle. He had also lived in and played rugby in New Zealand, in Matamata. A town about an hour's drive away from us in Rotorua.
Ian is the first real overlander we have met since we left Durban. There are lots of South Africans with their own vehicles. Otherwise throughout Namibia we only met European driving hired camping vehicles on short 2 or 3 week trips. Ian had been across Russia, around Canada and the US as well as Central and South America. It would have been nice to have spent longer chatting over a beer, but we had to find somewhere else to camp.
Our next stop at Thebe River Safaris Lodge and Campsite was also fully booked. These are both nice camps with sunset river cruises. According to our South African advisors, here is a really good place to see lots of animals on a cruise. A bit of a disappointment that both these camps were full.
Third attempt lucky, we are now camped at Kwalape Safari Lodge. It isn't beside the river, unfortunately. The weather is quite warm during the day now. Pleasant though, as the humidity is very low, not like the horrible sweaty conditions of West Africa.
I think we might have to plan a bit more ahead here in Botswana, if it is so busy. We may have to call campsite and make a reservation in advance.
Hits: 62