Okacuito River Camp
As it was a lot of driving yesterday, we decided we would take it easy today, so this morning we weren't rushing. After packing up we had a chat with our neighbours, a family group from South Africa. Last night they had said they would give us information on places to see in Botswana. Taking our map, we, I think interrupted their breakfast, but together we plotted a route.
Due to their advice we will now cross at a different border to the one we had planned. We now have an idea of good places to stay and the state of the roads. What is worth seeing and what isn't. It is so much better to get advice from people who have experience of a country, rather than from the internet or guide books. Thank you to our lovely South African neighbours.
It was after 11.00 when we left. Starting on the gravel road, we soon found a turning back on to the tar seal. It is a quicker route, but straight and pretty boring scenically. Small trees interspersed with habitations. Mainly thatched huts, rather than corrugated iron buildings. The inhabitants appear to be subsistence farmers with cows and goats. Supplementing their income selling firewood, poles for building huts and bundles of reeds/grass for thatching.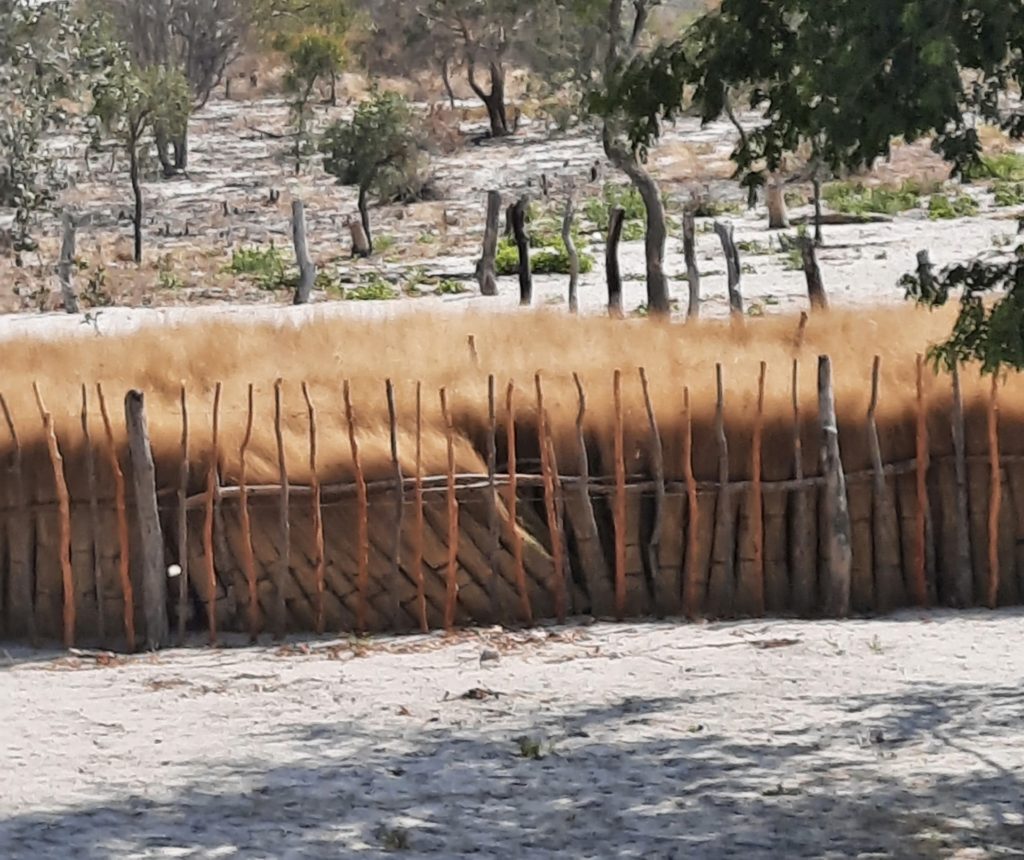 Reads for thatching.
We passed through a police check point where all the local people were having to remove things from their cars and having everything searched. We duly queued up for our turn, but the officer just waived his hand and so we went straight through.
Road to Mohembo Border
After about 80 Kms we reached the turning for the Mohembo border. This was the border we were originally going to cross into Botswana at. We turned down this road, as there are some nice camps here and we wanted to stop early and have a lazy afternoon. Also we wanted to see the Popa Falls.
The first campsite, The Popa Falls Resort, is controlled by NWR, the Namibian Wildlife Resorts. We thought it might be expensive. It wasn't though. The receptionist invited us to go and look at the tent pitches to see what we thought. They were very dusty, not that flat and there was already a large group camped there. We thought it wasn't for us.
While there we took the opportunity to wander down a raised track to the river. We hope it would take us to the falls. It took us to some lodges which were constructed overlooking the water. We could hear the falls and see the start of a lot of rocks, but it didn't seem very impressive.
Shametu River Lodge & Campsite
Moving on to the next camp, Shametu River Lodge, this is where we decided to stay. More lodges than a campsite, it has just 2 pitches. It it a lot more expensive, but has lovely facilities. We have a large, private ablution block and are even provided with towels. A 5 litre bottle of drinking water is also included.
There is a very smart restaurant and a bar with a large terraced area over looking the river.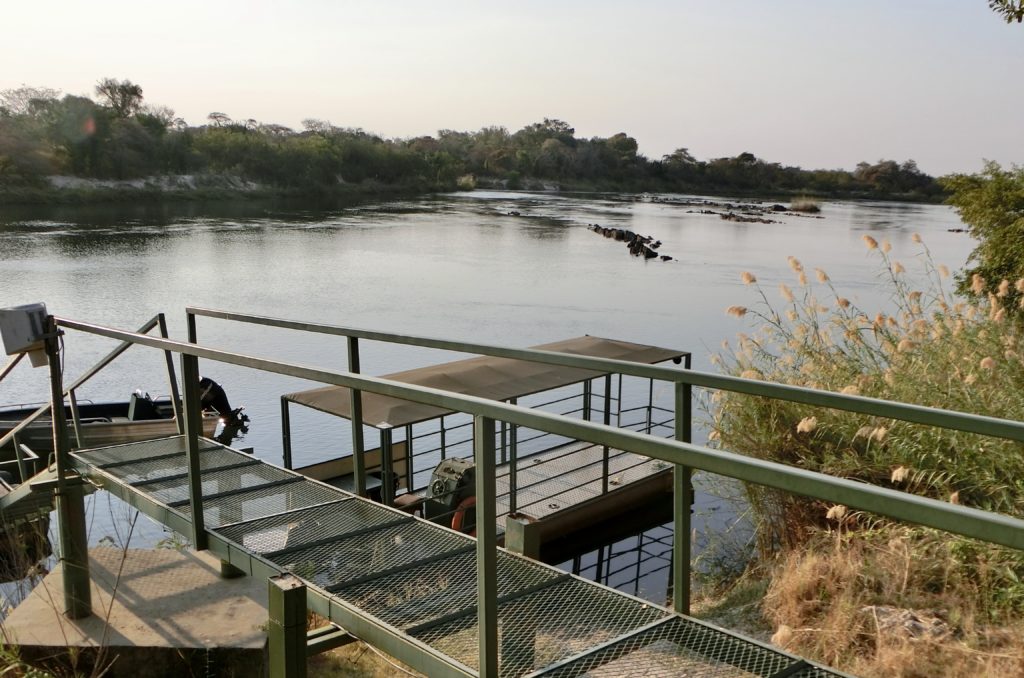 Quite fast flowing. One can only imagine the change in the rainy season!
We are sitting on the terrace as I am writing this. The sun is quickly disappearing to a lovely sunset over the river. As I didn't see any hippos last night, I had hoped to see some tonight, but no luck so far. A sign on the fence says "Beware of crocodiles", but we haven't seen any croc's either.
We could have gone on a river cruise. However, it was quite expensive. Our South African advisers said we should wait until we get to Chobe Park in Botswana and the Okavango Delta, as there is more wildlife to see there.
He/she looks content..:) We can't identify him/her.
Hits: 40