After a hearty breakfast at Fish Lodge Manor we set off, a bit before 10am, to head for Port Alfred. We wanted to take the R72. A smaller road than the N2 and closer to the coast. However, this proved more difficult than we expected, as at every attempt to join the motorway, which would have taken us out of town to join the R72, we were stopped by police cars blocking and closing the road.
We have no idea what was causing the motorway to be closed but eventually, having driven through the centre of town, we managed to find the R27. The centre of East London looked similar to many New Zealand towns with covered footpaths and Art Deco type architecture. Generally rather decaying though. On the outskirts there is manufacturing and light industry.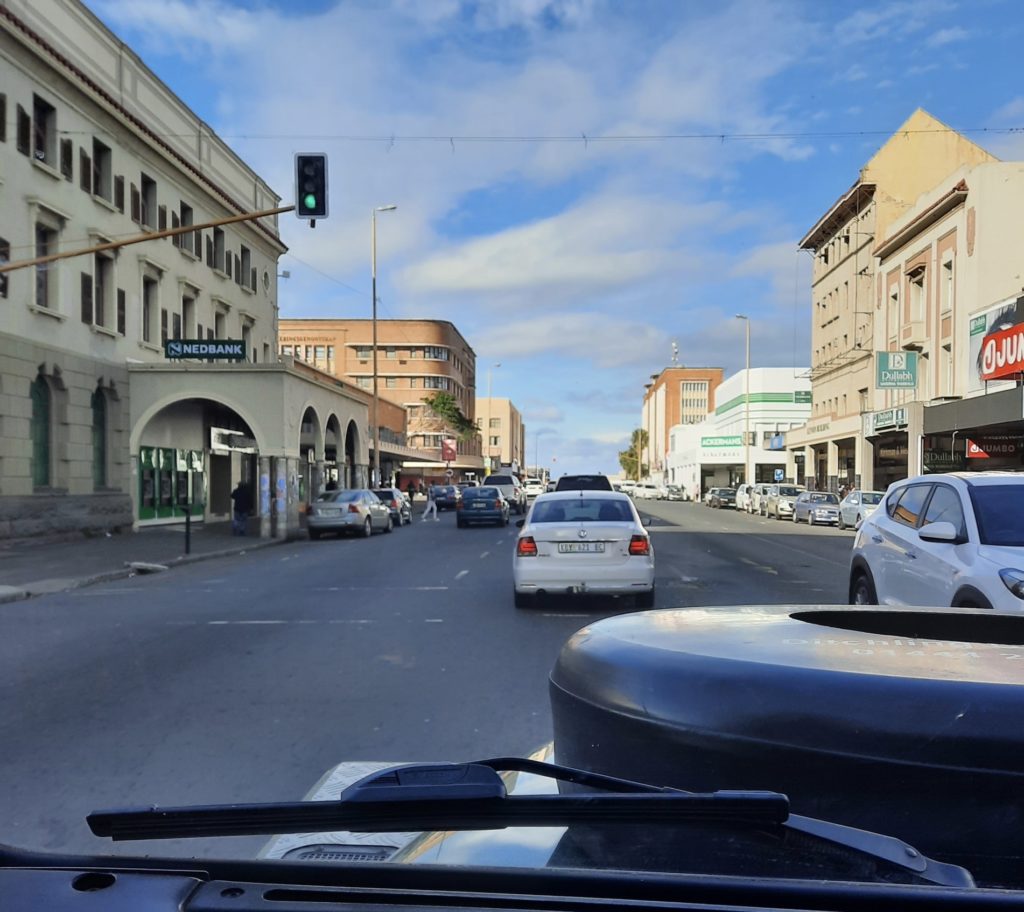 The journey proved more scenic than yesterday. Still very hilly and with regular glimpses of the sea. Most exits to the coast were gated and led to private resorts, so no opportunity to go and view the ocean.
We passed a private game reserve and saw our first small herd of Zebra and a few antelope type animals. I think we need to buy a book on African wildlife, so we can identify the many different types of deer like animals.
Port Alfred
We had decided to stop in Port Alfred and check out the camping. Stop here if we liked it, or continue if not. I had read it was more like a European campsite, with individual pitches surrounded by hedges and located close to the town centre. As we continued it sounded more appealing as the wind was really strong and in no way suitable for putting up our tent in exposed conditions.
From first impressions, it seems an affluent town. Definitely very "white".
The campsite owner, Susan, was very welcoming and advised, although they have a night watchman who patrols at night, to lock everything away. Also to boil any water. "This is South Africa after all". Her comment, not mine.
Notices on entry.
Having been a bright, sunny day when we set off, it was rapidly clouding over. The forecast wasn't good either. Nor is it for tomorrow. We put the tent up and securely pegged it down. Despite the protective hedges, the gusts that did penetrate were quite strong. We planned to have lunch and then walk into town.
While we were having lunch the rain started and set in and became heavier. So, no walk. Instead lots of correspondence, updating the blog and reading. It's very much colder than Durban. Only 16 degrees inside Poki while we were having lunch. By mid afternoon we needed a cup of hot chocolate to warm us up.
It's now 8pm and the rain, sadly, hasn't stopped. The wind has dropped though, Dinner and an early night to follow. If it's still raining tomorrow we may stay put. Otherwise we will head towards Addo Elephant Park.
Hits: 64