Hotel Amointrin included breakfast in the price. It wasn't very exciting. A few slices of omelette, bread and marmalade and hot drinks, tea, coffee or chocolate. It was adequate though. Adam had messaged us to say he wasn't leaving his hotel until 11.00 as he was waiting for his laundry to be returned. We will meet later at the Hotel Les Tropics in Daloa.
It is easy motoring on lovely smooth roads, once we got out of Man, where once again in the town the roads were abysmal. We stopped to refuel but there was obviously an issue with diesel as we were repeatedly directed to a different pump. In the end we gave up and we drove off.

We saw Adam's Zikit parked at a supermarket/boulangerie. We stopped too and bought some bread and pain au raisins and pain au chocolate. Adam was catching up with some shopping for provisions. Then we were off to find another garage to refuel.
Other travellers
Soon after we came across a broken down van surrounded by a crowd of Europeans. A Czech registered Volkswagen with the bonnet open and various heads tucked inside. Dennis stopped to see if he could help. There was a problem with the van overheating. Dennis tightened the jubilee clips and put some of his special leak treating potion into the radiator. They were very grateful for the assistance and we suggested they set off ahead of us, so we could help if they broke down again. That was the last we saw of them.
Sadly the nice smooth road didn't continue. No pot holes but lots of roadworks and resurfacing in long sections. The scenery is not so forested as before. Ivory Coast is more developed than Guinea. There is more traffic and more industry and cultivation. We came across a large rubber processing plant with rubber plantations in the surrounding area. We stopped for lunch in the shade of rubber trees.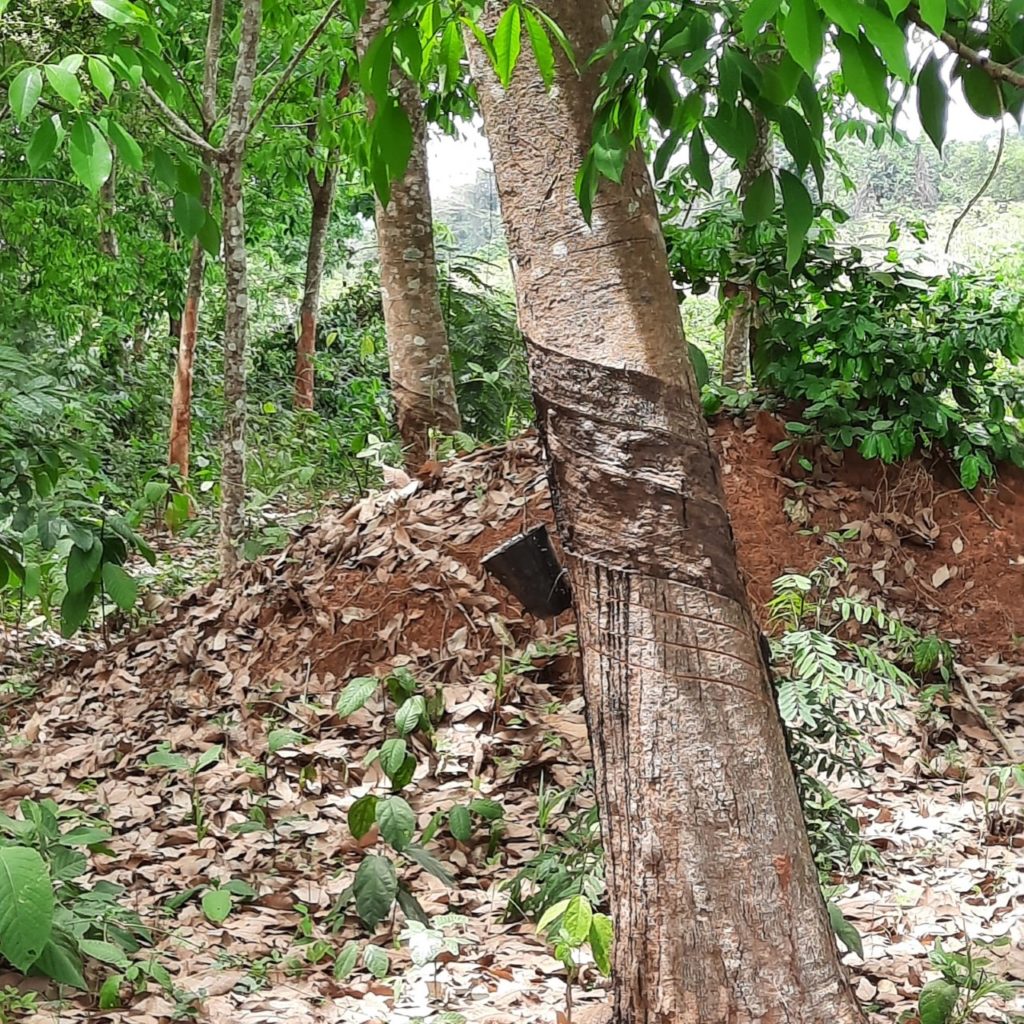 On the outskirts of Daloa, iOverlander warned of a corrupt police check point. We were stopped and an angry looking policeman stormed up to Dennis's window. The usual warm salutations from our side proved ineffective. He demanded to see Dennis's driving licence. We gave him a photocopy. He insisted on seeing the real licence. Dennis held it up for him to see, but refused to give it to him. He got very irate and demanded the licence. (Once given, only a cash payment is going to get it returned). Getting even angrier he got out his phone and said he was calling his "patron". Stepping back to do this gave Dennis the opportunity to drive away.
Daloa for the night.
Hotel Les Tropics is a nice modern hotel. Accommodation is in rondovals. While we were waiting for our room to be prepared we had a welcome beer in the bar. The rondovals are basic but bright and clean. I had read on iOverlander that there was a place here in Daloa that sold most car parts. It wasn't far away so we decided to walk there. No luck with the shock absorbers though, so we'll try again in Abidjan.
We had just got back to the hotel when the heavens opened and it poured with rain, with the odd clap of thunder. Rain 2 days in a row. Is this the rainy season starting early? I do hope not.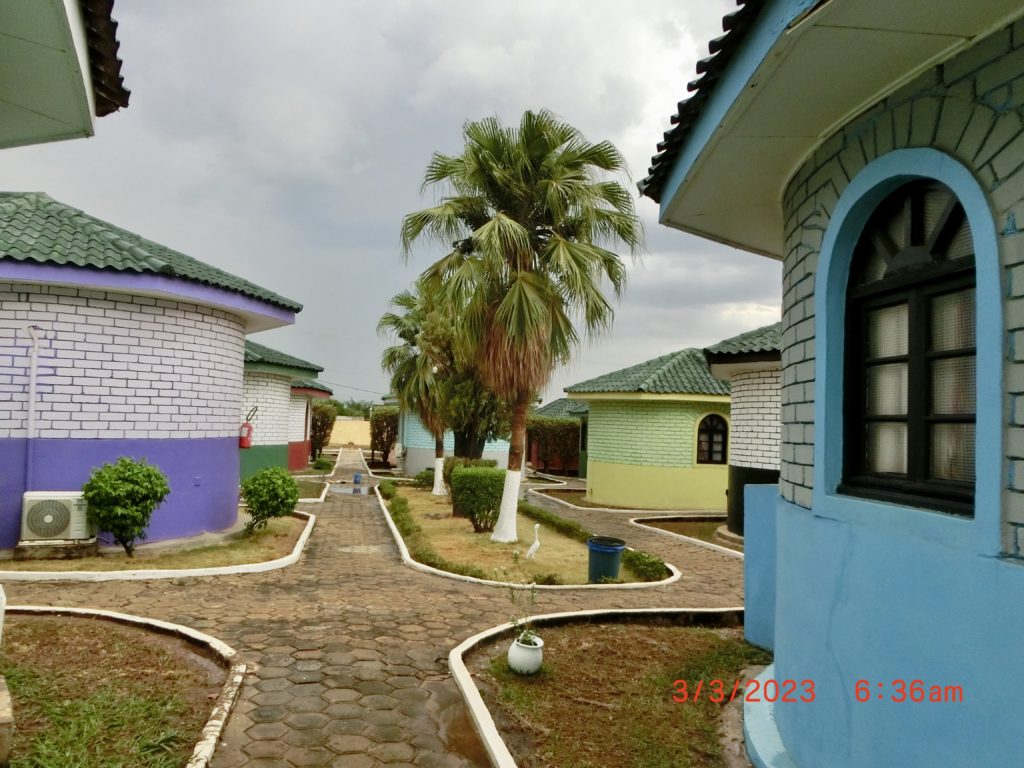 When we had been stopped in a queue at one of the roadworks, lots of ladies with various fruits in baskets on their heads were trying to sell us their wares. We decided to buy an avocado. I gave the smallest note I had, CAF 1000 (less than 1.5 Euros). Having no change the lady pushed a whole carrier bag of avocados through the window into Dennis's lap.
I thought we could use one of the avocados with our dinner this evening. It wasn't ripe enough though and sadly quite bitter. We'll have to keep them for a few days. This then reminded us that at lunch time we had put a large mango, which we had picked at the catholic mission, on the mudguard in the sun to ripen. Of course we forgot it and drove off losing it. We still have a bag full though.
Hits: 71