Another peaceful night in the isolation of a desert camp. We are approx 30k's from the road to Chinguetti.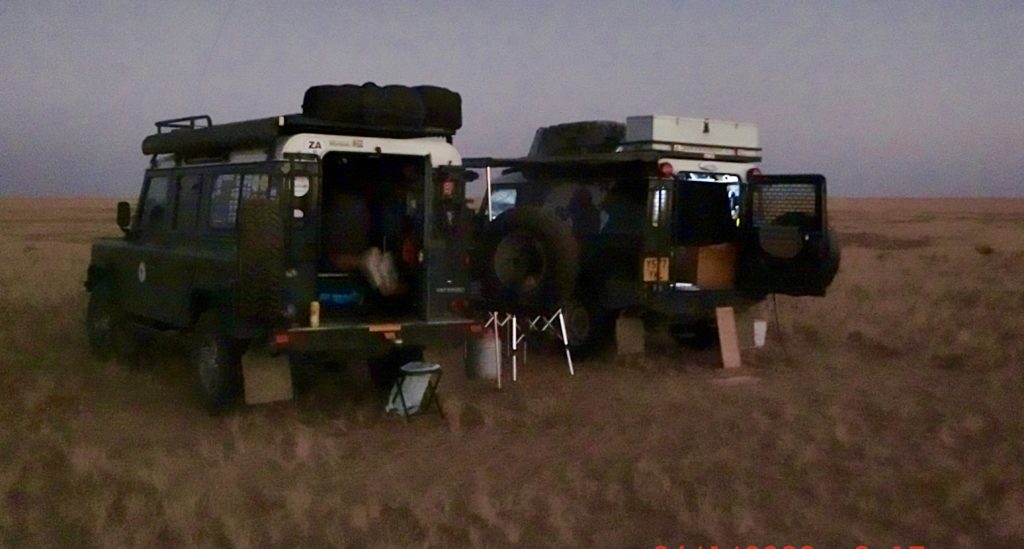 We are enroute to Chinguetti. It apparently holds priceless historical Islamic scriptures and records and is also a historic town.
Breaking camp and on the road by 10.30am, it's only 30k's to Chinguetti. 30k's of the most torturous corrugations I can recall. Poor Poki, she was given a good shaking but apart from having to adjust the bonnet locating pin, she seems to have been unscathed.
The only sealed section of the road was a steep mountain climb out of a gorge. Half way up there was a truck, broken. It would appear a huge slab of rock has come down from above and the truck has hit it with it's offside front wheel. The result, the front differential and wheel were forced back underneath the chassis and it will probably sit there till it rusts away or someone pushes it over the wall into the gorge.
Chinguetti.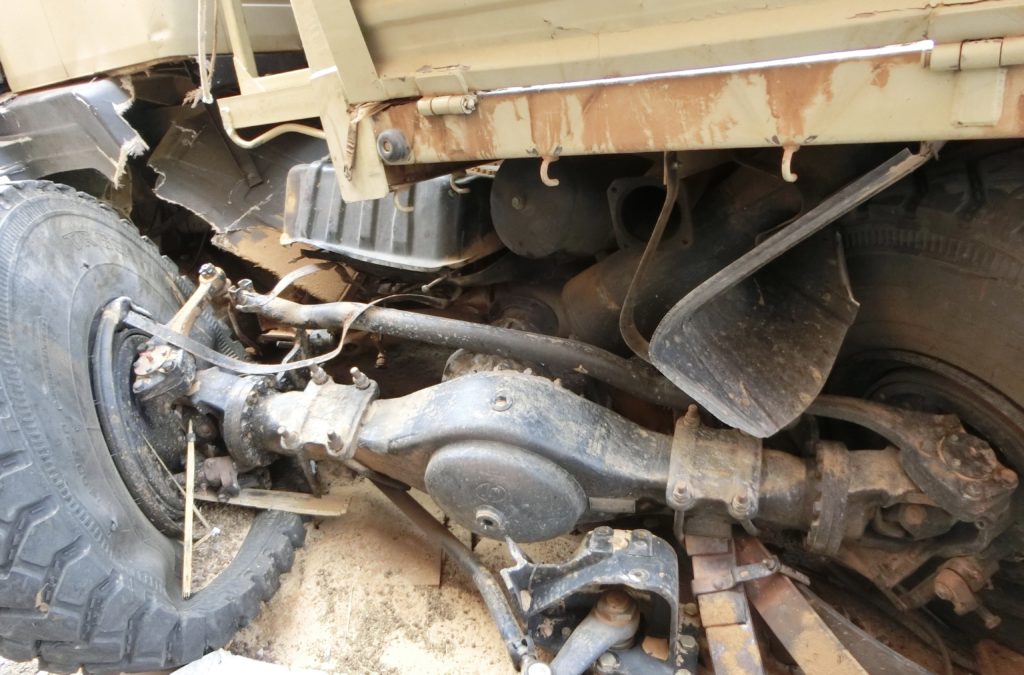 Who knows who writes reports on some of these sites. Supposedly an ancient city/town. Well, it's hard to know where the old one ends and the new one starts. It all looks no different to the previous towns we have driven through to get there.
I have to say that the visit to the Bibliotheque that houses ancient Islamic scripts was worth the 100 Ougier NZ$3 to get in. We have absolutely no way of knowing how authentic the books and scripts are but reputedly 1200 years old. Sadly termites had dealt to one of the books, eating their way through from leather cover to cover.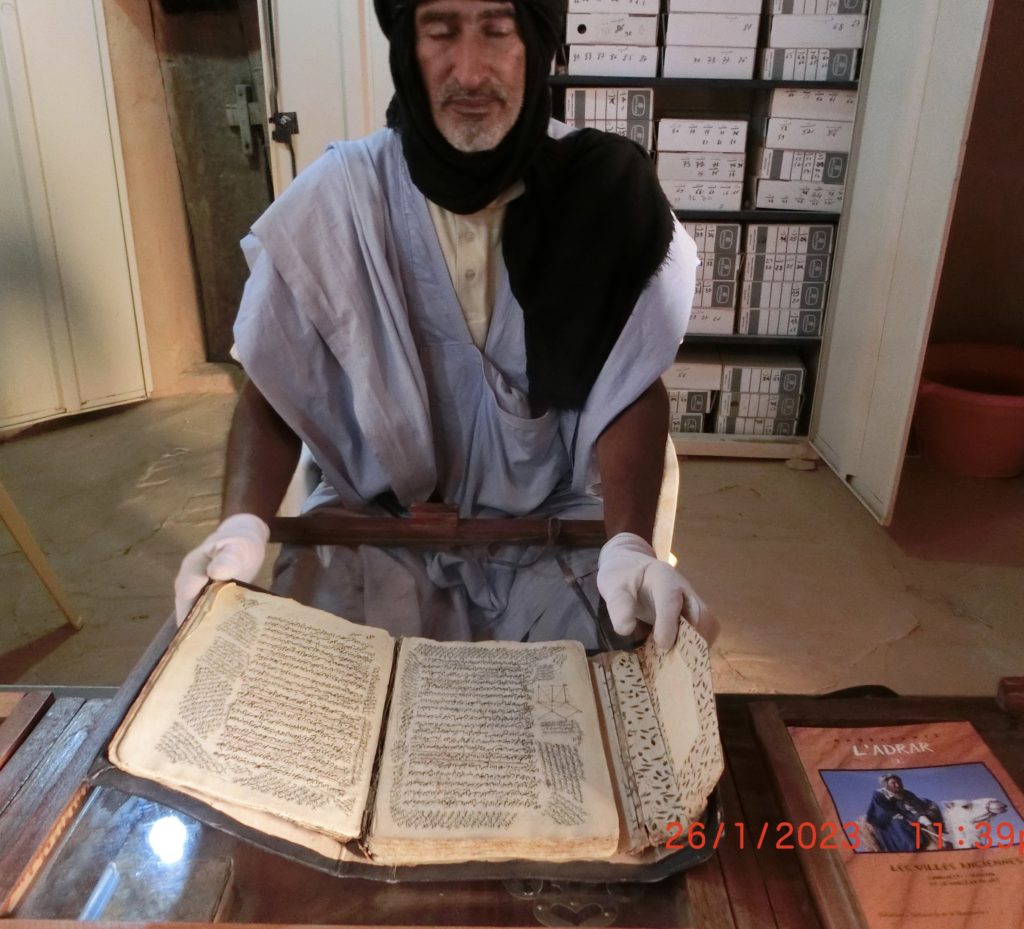 From the time we pulled up into the sandy square which houses the Bibliotheque we were surrounded by half a dozen women wanting to sell us their wares. Talk about persistent, it took a number of rebuffs before they settled on Adam who is a soft touch. Each item presented beautifully crafted but we can't store any extra stuff.
A conducted tour.
After having a conducted tour with two couples of lovely French tourists, one driving a well equipped Toyota Land Cruiser 200 series and the other a massive 4×4 Iveco camper, we headed back through the habitations.
What happened to Adam?
Waiting for a while for Adam to follow and having no luck getting him on the radio, 15minutes later he told us he was backing away from his park area when an old Mercedes 190E came past and Adam's Landy nearly demolished it, without a scratch to his vehicle. It seemed the owner was incensed and demanded 2000 Ougier but took 200 as a final offer. These Mercedes vehicles are everywhere and in unbelievably dilapidated states. Adam said there were bits of plastic and metal everywhere. I'm sure it will be of no detriment to it's continued running.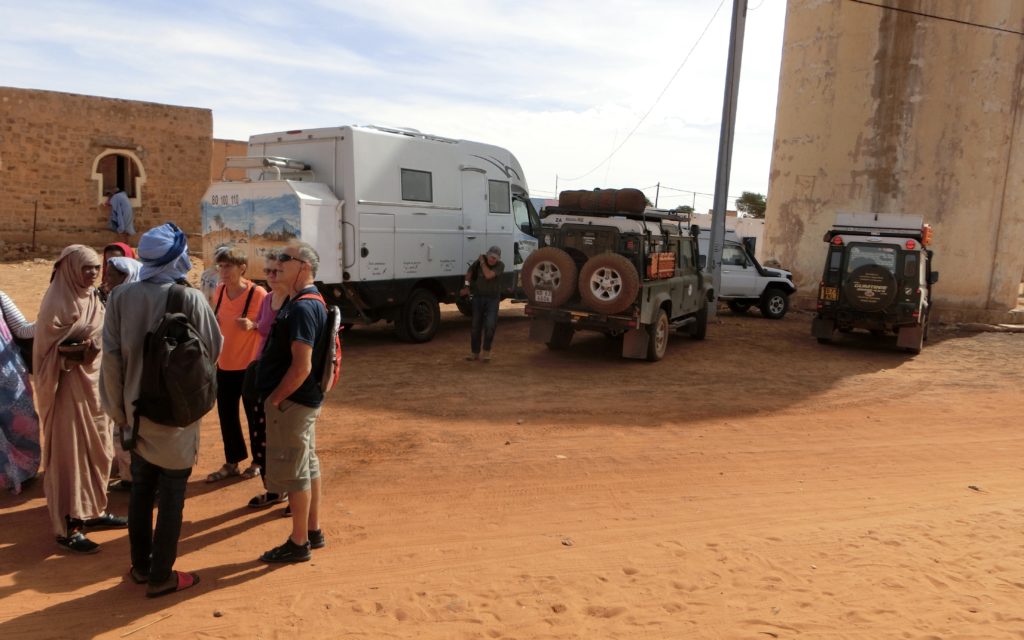 Braving the return drive back to Atar via the badly corrugated road we passed a French camper van crawling along at about 20kph. It must have taken him hours to do the 80k. More fruit and vegetables were purchased on our way through the town, including a watermelon. Great for quenching an almost insatiable thirst.
Again we are in a flat desert pan with fine gravel under us and nobody for miles. It's 7.40pm. Jen has cooked us a great meal and the sun has just dipped is red orb behind the distant hills. Relief from it's burning rays.
Hits: 68