Bad weather
Dennis asked in his last blog, "What could go wrong". Perhaps I should start by asking, what could go right? Contending with snow was not something that had occurred to us in our advanced planning.
On Sunday we went, in my aged Mini Cooper, Poki being out of commission, to visit my son, Tim and family in East Peckham in Kent. For days the media had been talking about the "Beast from the East" which was going to hit the UK with freezing temperatures and snow. It had duly arrived and been bitterly cold with heavy frosts for several days, but no snow.
We had planned to leave Tim's before it got too late as I was concerned about driving in the dark on icy roads. However, I wanted to see my grandson Louis. He has a weekend job with Halfords (an auto parts/cycle store) and was expected home by 4pm. As it was busy the store had asked him to stay on late.
I had wanted to talk to Louis about the sale of my bicycle. After our cycle trip in France in July I had decided it was time to change from my trusty Surley Long Haul Trucker, to an electric bike. Dennis had bought me the Surly Longhaul Trucker on TradeMe in New Zealand in 2009. She was second hand then and and I have since ridden over 13,000ks on her. I had given her to Louis to sell. Louis had started a cycle repair business during Covid and had a lot of experience with restoring bikes. My Surly was pretty bruised and battered so I thought he could tart her up a bit and sell her to get him some pocket money. I was gobsmacked and delighted to learn he had sold her for £480! He's an enterprising young man.
Huge congestion and delays
We left at about 16.20 and shortly after it began to snow. In no time at all it was snowing heavily and despite being in the centre of Tunbridge Wells and in heavy traffic, the roads where quickly covered in snow. We crawled through Tunbridge Wells and into the countryside. Then the real fun began. Any slight incline and we were stationary. Snow has become so rare here people don't know how to drive in it. In no time at all there was chaos. Cars abandoned everywhere, slipping and sliding at all angles. In hedges and ditches. After sitting going next to nowhere for a couple of hours, Dennis commandeered the driving seat and decided enough was enough.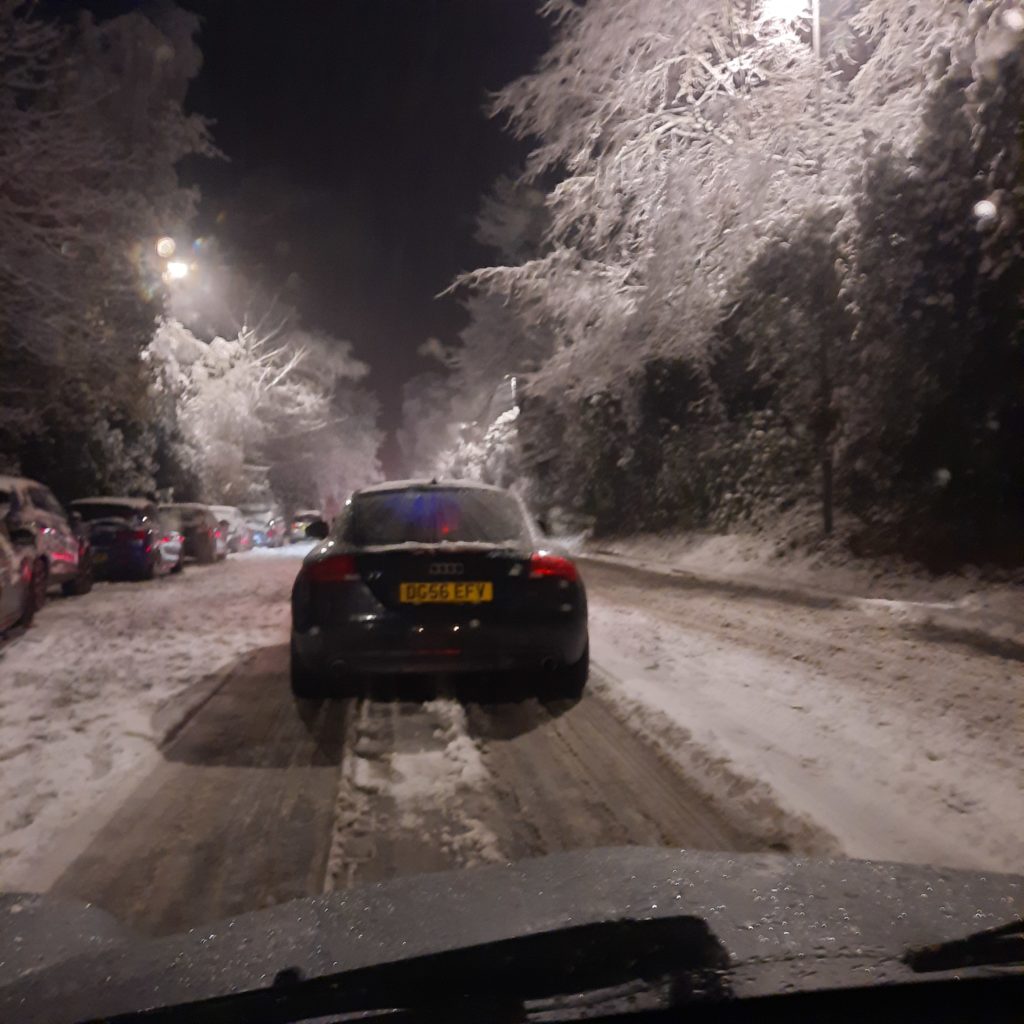 He let the front tyres down a bit and when there was no sign of any approaching traffic, he pulled out on to the oncoming lane, put his foot down and we rally drove up the hill passing all the strugglers. The whole journey took 5.5 hours when normally just over an hour.

We are still awaiting news from Gumtree regarding Poki's ECU issues. Obviously we cannot plan a leaving date until we know her situation. Our planned departure date, tomorrow 15 December, would not have happened anyway as our Carnet de Passage has not arrived. I am not best pleased as we have paid an extra £130 for express delivery. Royal Mail are on a series of strikes – along with just about every other service in the country, the railways, teachers, nurses, airport baggage handlers, border force workers etc. The country has gone totally to pot! I had asked the Carnet issuers to use DHL or DPD. If they had done this immediately we would have received the Carnet on time today.
Another annoyance is that British Government have turned down my application for a second passport. I applied in August and in October, while we were in New Zealand, I received an email from the Passport Office advising I did not meet the criteria for a second passport. I could and did appeal. When we returned here in November I had heard nothing more so telephoned them, only to be told it was still with the Appeals Committee. On Monday I tried to call again but was repeatedly advised my reference number did not exist and I could not be connected. I emailed them and much to my surprise, got an immediate response. My reference number no longer existed as my request had been denied. I expect there is a letter advising me of this stuck in the mail somewhere. Another wasted £100. There is no refund if your application fails. Dennis and Adam have both been granted second passports by their respective governments. As a 73 grandmother, perhaps the British Government considers me a security risk.
Well this is full of moans and groans. Dennis says it's because I'm a "Pom". I say it's because I don't like inefficiency and incompetence. Perhaps the next blog will be more positive and we'll be on the road, or at least have a departure date.
Hits: 93