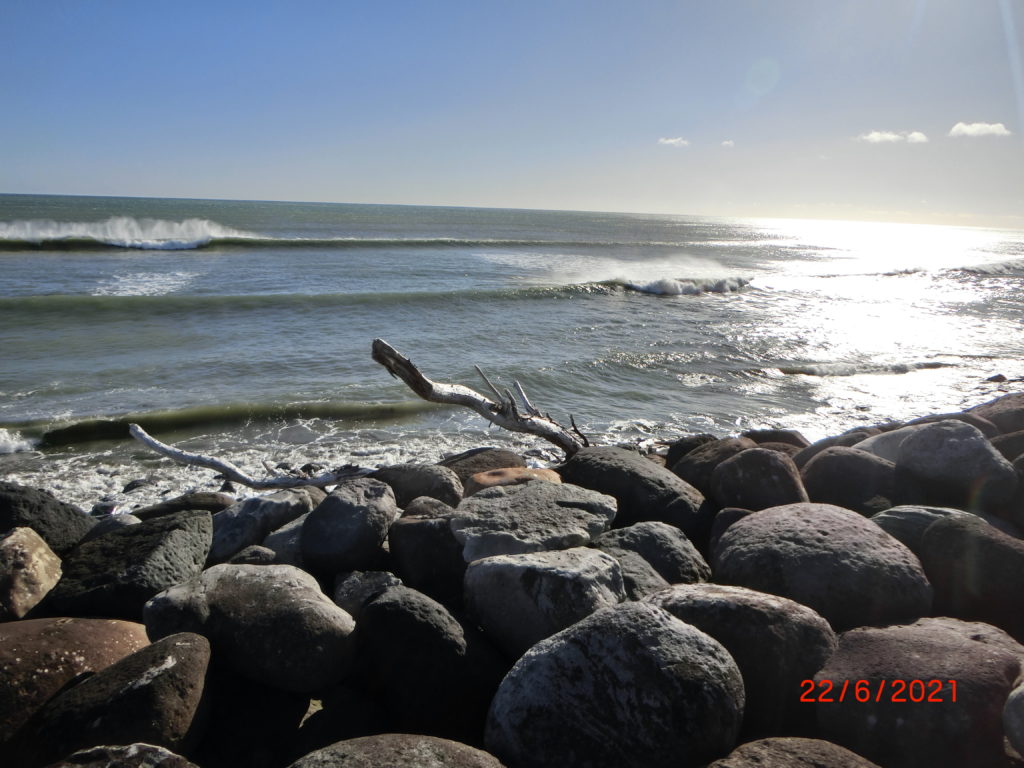 It has been 3 months since we last posted a blog, so we are long overdue an update. Sadly, not a lot has improved in the world as far as the pandemic is concerned. Travel is still very limited. New Zealand has opened a quarantine free travel bubble with Australia and the Cook Islands. Yesterday, though, the bubble with Australia popped and flights were suspended. There are increasing cases of Covid spreading in Australia.
I have had some family drama with Covid too. My youngest son, wife and 3 little ones were due to return from London to the US today. They had been on a 2 year posting in the U.K. and were due to return to San Francisco. Jasper, my 7 year old grandson had been sent home from school a week ago as someone in his class had tested positive for Covid. A couple of days later he also tested positive and then my son, James was positive too. He and wife, Sarah had both had one dose of the Pfizer vaccination, but James was still poorly for a couple of days. Subsequently the girls caught it too, but fortunately with mild symptoms. They now have to wait until they all test negative before they can fly to San Fransisco.
At the same time James's brother, Tim's son, Dan (age 14) was sent home from school, for the same reason. A couple of days later Dan also tested positive. This morning Tim advised Dan was still eating and on his boy's sickness measure, that meant he was okay! It appears the Delta variant, which is highly contagious, is now spreading like wildfire through the younger (30 and under) population in the U.K. They are not yet vaccinated. 18,000 cases were reported today.
Car club stuff.
On a lighter note. We are still fortunate to be living a pretty normal everyday existence here. Our lives have become dominated by car restoration and the Veteran Car Club. Despite our protestations that we could not be Committee members, as we will be off as soon as travel opens up, we are now on the Committee. I have somehow become event organiser for monthly midweek events and the Spring Rally.
The first midweek event last month was to the Avantidrome, which is a state of the art Velodrome in Cambridge, in the Waikato district, about an hour's drive from Rotorua. I thought it would be quite a pedestrian event. Nice to socialise over lunch in the Bikery Cafe first, but the tour of the facilities afterwards didn't sound overly exciting. How wrong can you be. We were privileged to watch the high performance speed and endurance riders practicing for the Tokyo Olympics. Watching a cycling event on TV simply fails to give you the sense of speed or atmosphere. It was thrilling. The speed incredible. The riders followed a small motorbike, a Derny, around the track to get them up to speed, then raced for 3 laps.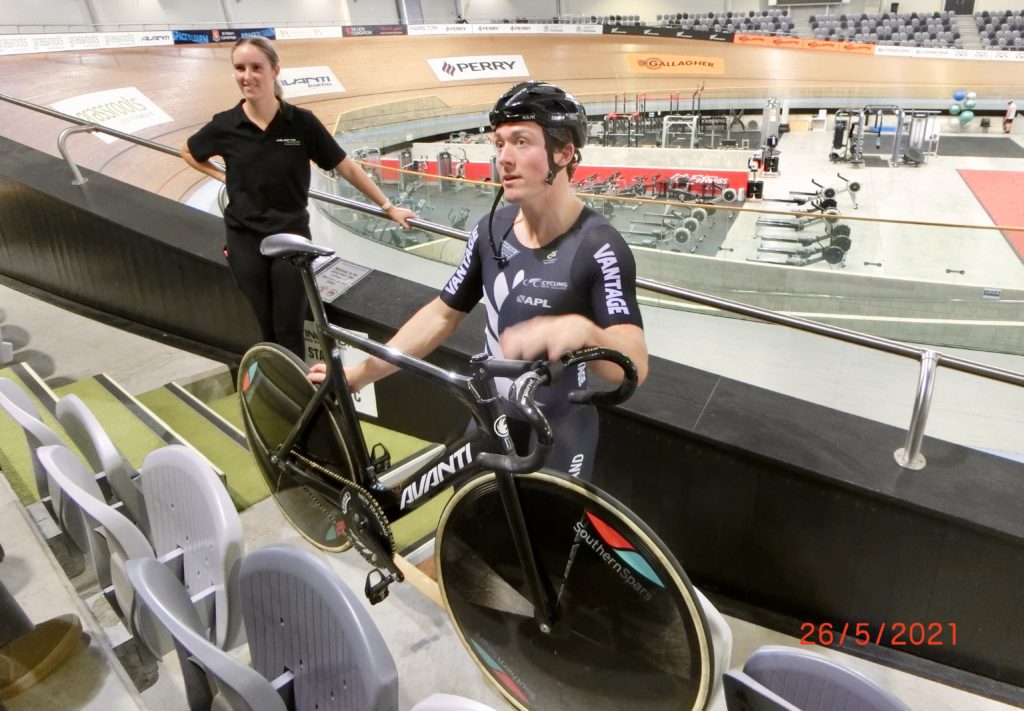 We were extremely fortunate one of the riders, Ethan Mitchell, a multi World and Olympic champion, bought his bike over to show us and answer any questions.
Our group of 23, were really enthusiastic and asked many questions. Ethan's space age bike, made out of carbon fibre, along with his shoes, has no brakes or gears! The wheels were designed by NZ's America's Cup design team. No spokes and each wheel costing over $20,000.
This month's event is to a museum of muscle cars, trucks and over sized equipment, including one of the largest production built bulldozers in the world, followed by lunch at a Cambridge cafe.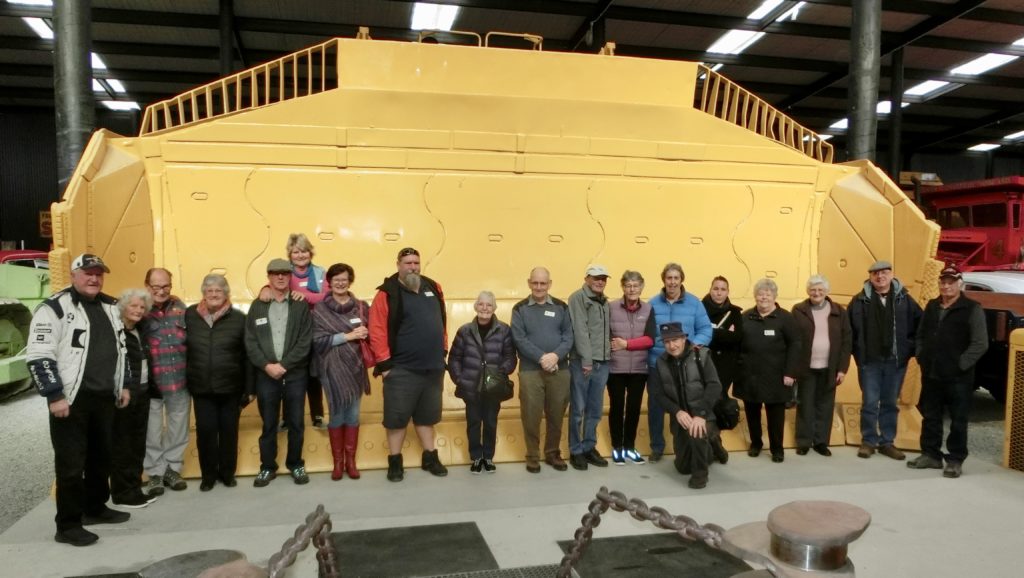 For our Spring Tour at the end of October, we will spend 6 days visiting the north of the North Island. Warkworth, Whangarei, Paihia and Wellsford are on the itinerary, with visits to a farmer's market, a pottery, museums, natural attractions and some car collections.
A few weekends ago we had a different car experience. Dennis's friend, Noel, had arranged with another friend of his, James, for us to visit Manfield motor racing track. James is a club member and has an M5 V8 twin turbo BMW which he took us all around the track in, at speeds approaching 200kph. Great fun. During the lunch break you were allowed on the track in your own car. We took our Mercedes CLS 500 round. You weren't supposed to exceed 100kph but Dennis did – a little bit, but would have done more if I hadn't been screaming at him 🙂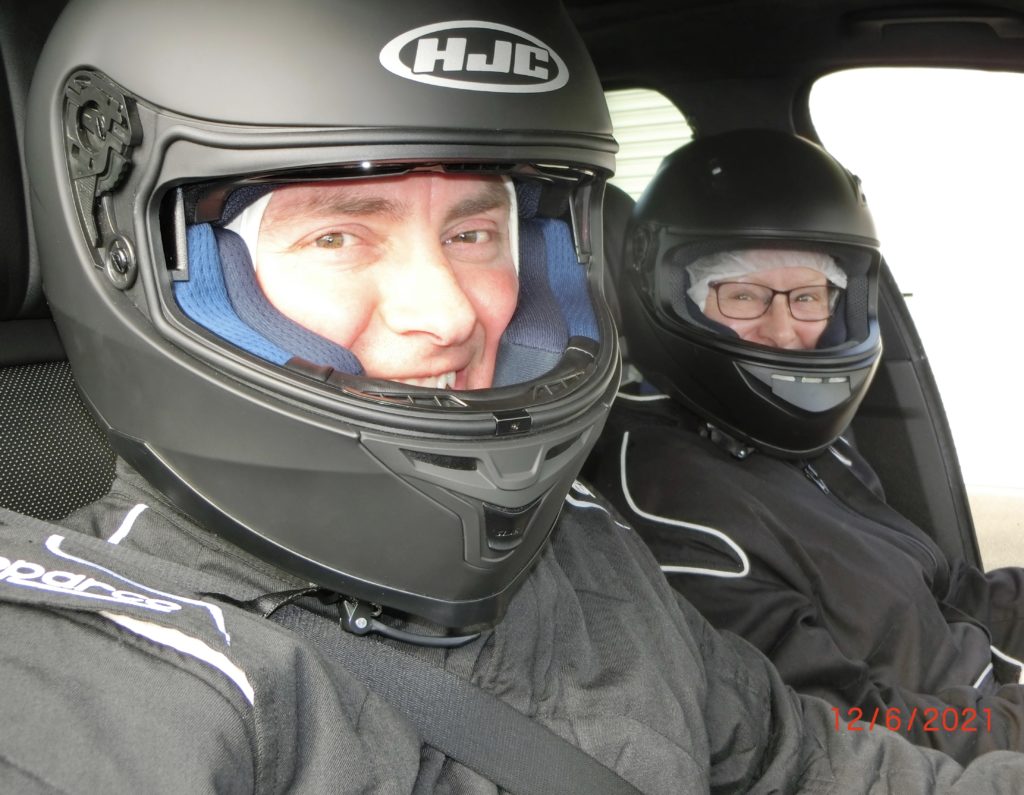 A breakout.
Sometimes car restoration and the Car Club are a bit overwhelming and a change is required. Plus as Dennis has mentioned before, I get itchy feet and feel caged. Travel seems to be in my blood. So, earlier this week we decamped to New Plymouth in Taranaki for a short break. 2 glorious blue sky days meant plenty of walking. A 10k Coastal Walk and stroll around Pukekura Park.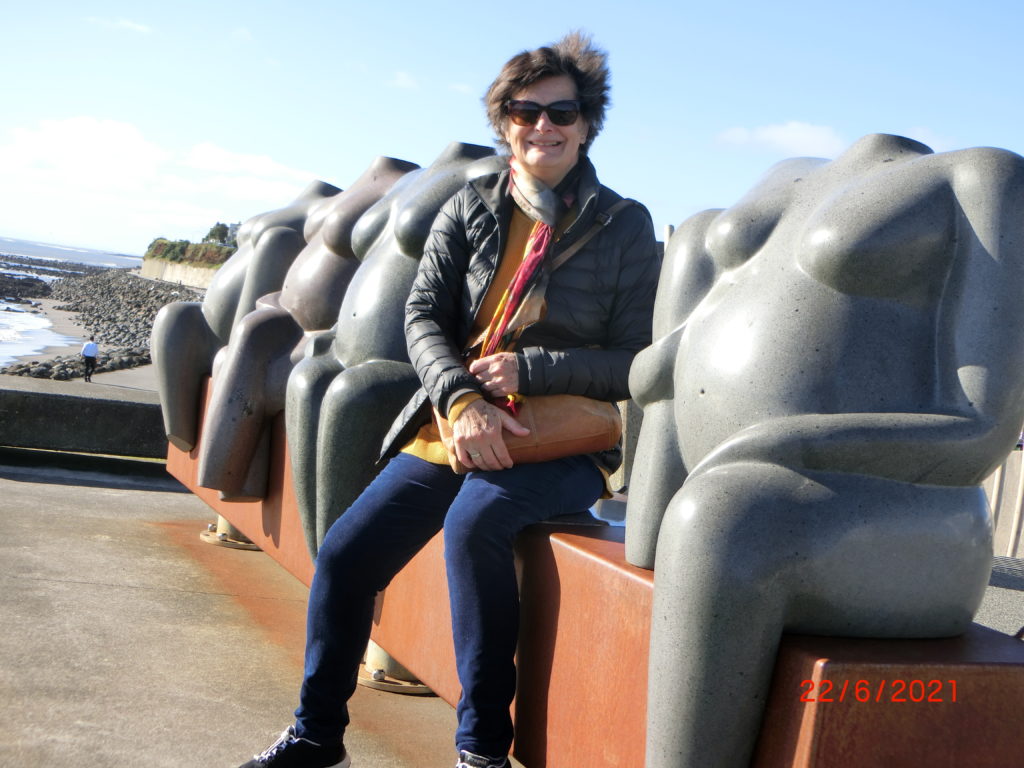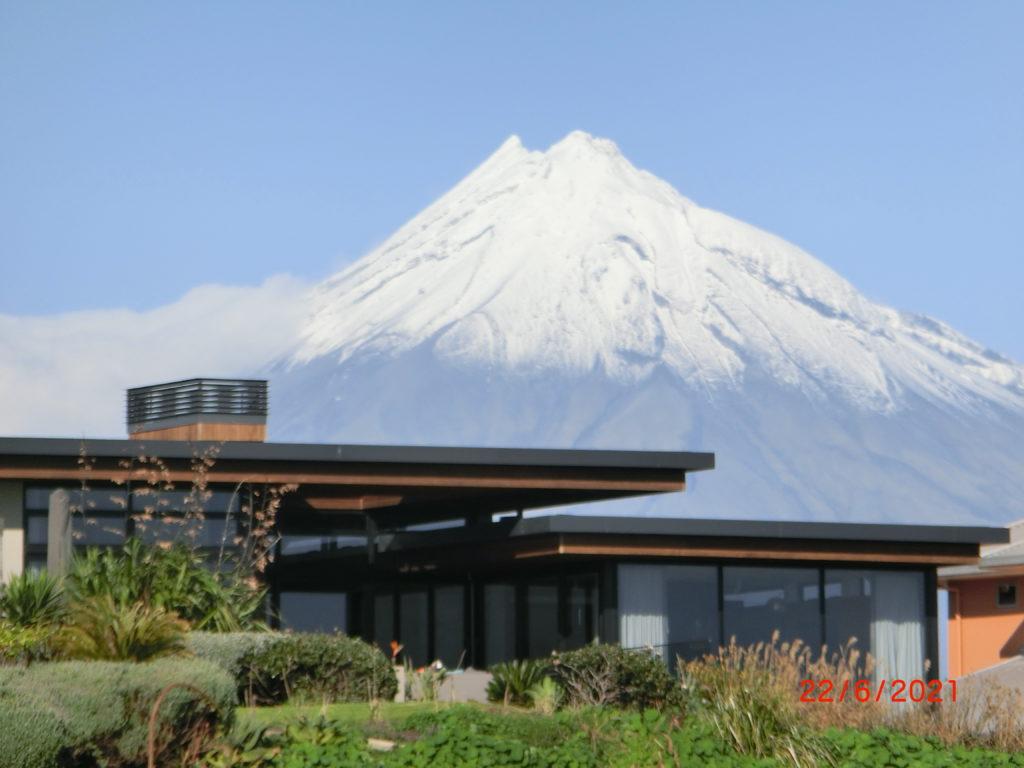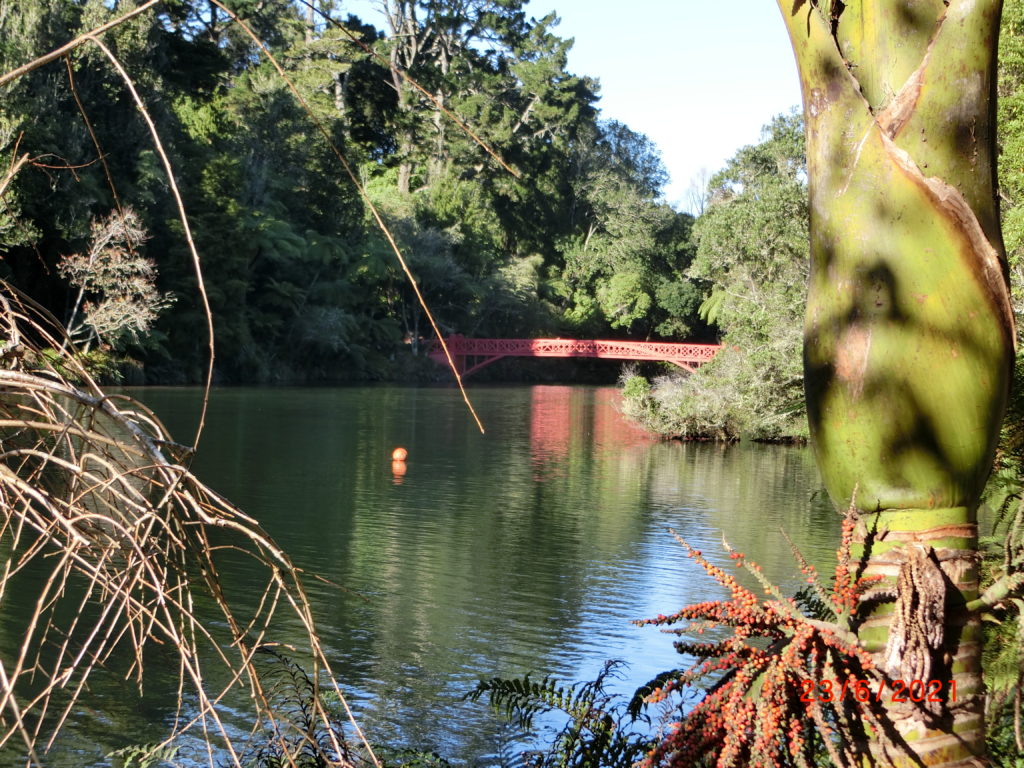 Some culture was provided by the Len Lye Centre in the Govett Brewster Art Gallery. Len Lye's quirky engineering "statues" were on display. There was also an Italian Film Festival taking place. We watched The Traitor, the life story of the Cosa Nostra informant, Thommaso Buscetta. New Plymouth has some good cafes. Architecturally, the building is a masterpiece. Clad in fluted, highly polished stainless steel. Sadly the sun was in the wrong place for it to be photographed. I have to say the culinary scene in NZ has improved dramatically in recent years.
Being at home here for a longer period than usual, we have been able to do some work on the house. Some double glazing has been installed, extra insulation added to the roof and walls and tomorrow we are having a heat pump fitted. Having made all these improvements to keep the house warm, the winter so far has proved very mild!
Let's hope next time we post a blog the Covid situation world wide will have improved and travel started opening up again. I think it is something we are going to have to learn to live with though. I am not sure how New Zealand is going to cope with this. Can the border be kept closed forever and mandatory quarantine enforced?
Hits: 333