I omitted to mention that when parked on the waterfront in Belize City, and away on Cay Caulker, someone from the Belize Land Rover Club had left a very professional looking postcard sized card under our windscreen wiper blade. We later carried out a lengthy chat on WhatsApp with Jad, who is in the process of rebuilding a 110 Defender. He lives on one of the outer Cays and is only in Belize City for short periods. He was lamenting the small size of his club. Though they are clearly well organised and passionate. Maybe we will get to meet up if we have to kill time waiting for the fridge?
Our camp site on the sand last night, within a few meters of the lapping shore, was very nice. Some shade from coconut palms and the morning dawned fine and sunny.
Lying in bed last night listening to a Reggae type band play some of the most amazing music I think I have ever heard. Brilliant drum work and very clever repetitive, indecipherable, minimalist lyrics, that I found fascinating. Jen tells me it's called Garifuna drumming. After chatting with Albert this morning. Albert was the resident that gave us the OK to park between his house and the sea. He tells me the band are called "The Driftwoods". I'm not sure of the connection with the Driftwood Beach bar and Pizza shack, which is where the the concert was being held? It's an Afro, Caribbean sound? These guys, I've no idea how many, probably a maximum of three, were wonderful.
As mentioned, we were no more than three or four meters from the waters edge. Albert tells me that has not always been the way. He said there used to be a huge sand bar between his property and the waterfront that was 200metes away!! Thirty years ago. He said he could walk at low tide across the sand dunes from his place in Hopkins to the next town, Dangriga which would be about 10k. Now, there is a bay full of water between.
I had to take another paracetamol at about 5am this morning. There is a dull ache developing in either a tooth or the gum. Time for a general antibiotic to see if I can throw it. It's coming up to the weekend and If I cant fix it by Monday will have to visit a dentist!!. Maybe the best place to find one of those is in Spanish Lookout where our acquaintance, Bernard lives. It's through Bernard's companies in Miami & Belize, that we are importing the fridge.
Sarah & Tim packed up by about 9am and headed a little further back down the beach. We had agreed to meet here in the National Park and camp for one night at least. From 32deg C it's predicted to drop to around 26C and rain to come in. That will be a new experience!
It was only about 21k's from Hopkins and we arrived at the Mayflower Bocawina National Park around midday. There is a palapa close by to get shade from the sun, but had only been here 30min and not yet started to set up camp, when the first drops came. It was bucketing down by the time I had the Caranex off the roof and in place. The rain didn't last long, before the sun was out again. We are on the edge of a rain forest with several tracks taking in different features. Waterfalls, bird loop walks and jungle walks. There are Mayan ruins in the jungle too, close bye.
Sarah & Tim and the kids decided to head for a distant waterfall, accessible by climbing ropes. We hadn't got our hiking boots out of a roof box, so opted for a 15min walk to another waterfall. in open sandals. The roof boxes can only be accessed from a ladder at the rear of the vehicle. Not possible once the Caranex has been erected.
By the time we reached our waterfall we had been walking over an hour and it was starting to rain again. There were a few colourful birds darting across the track and I saw the tail end of a light tan monkey, racing down a tree in front of me. No time to point and click the camera.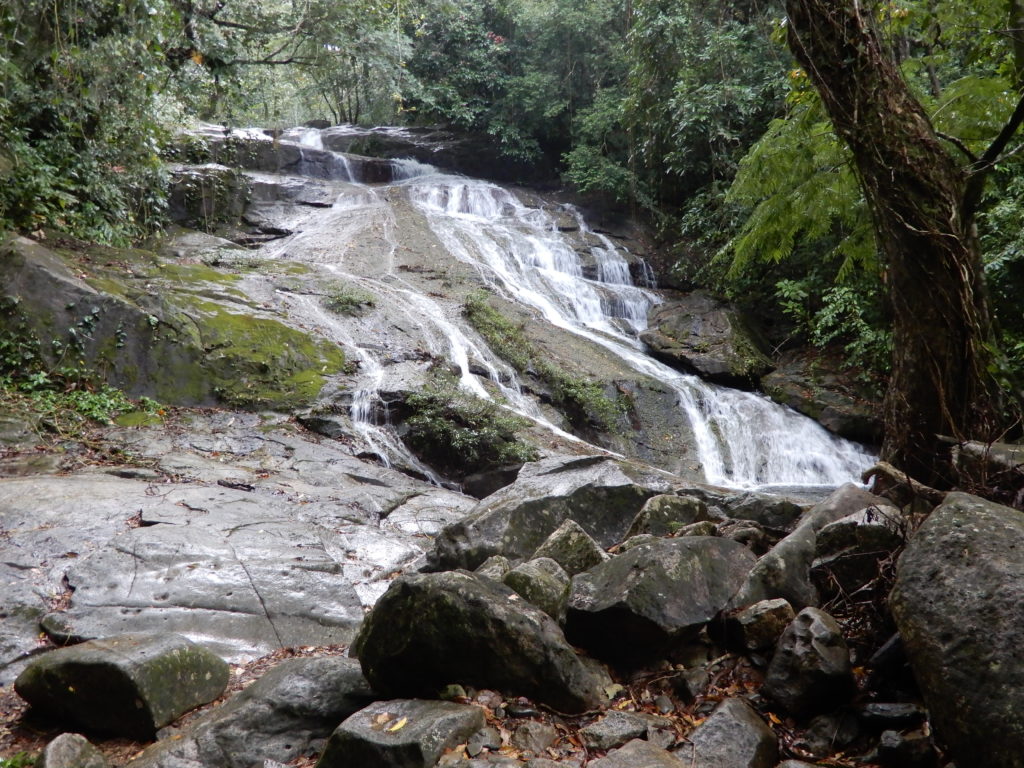 Fortunately we had umbrellas so avoided getting totally soaked, but got wet enough.
The 15min walk each way, ended up being about 2 hours 20min. Sarah & Tim got back about half an hour after us. We'll find out later how they fared. One thing's for sure, we are going to have to get used to the wet conditions as they are forecast for the next 3-4 days!!!!

Hits: 34