It seems Belize has the second largest coral reef system in the world. Second to the Great Barrier Reef of Australia. However, much of the Great Barrier Reef has been damaged by the crown of thorns starfish. As yet, the Belize reef system is undamaged.
Our trip out to one of the Cays, Cay Caulker took an hour by long slim, very fast, water taxi, carrying around 60 passengers.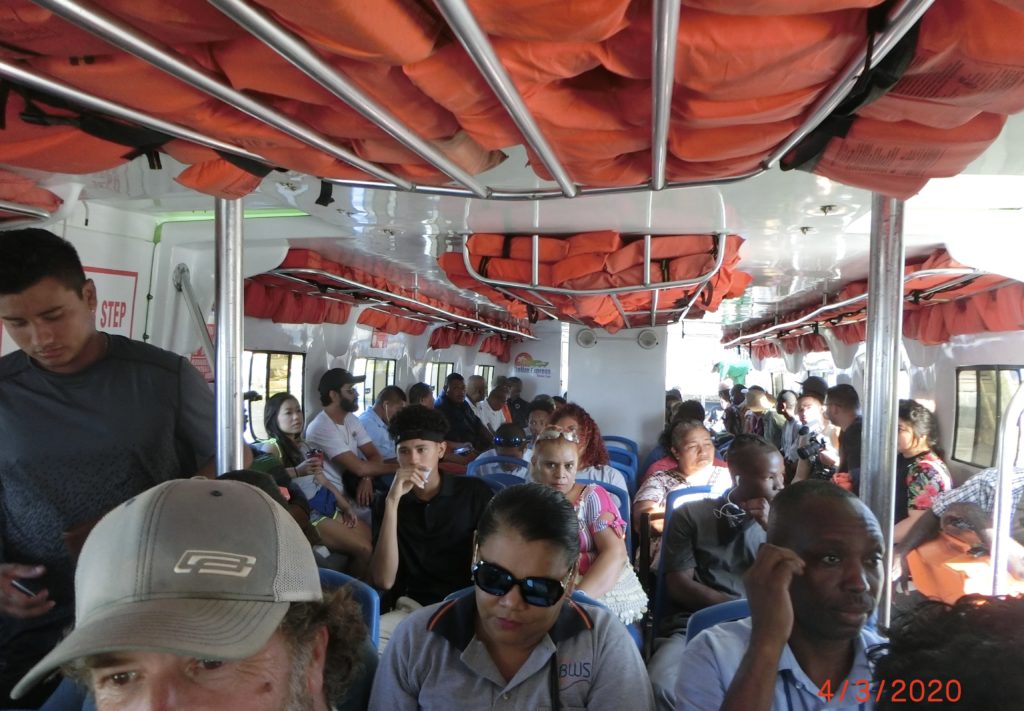 There are three cruise ships anchored outside the coral reef, protecting the no more than a meter high, island.
There is a constant stream of vessels 'processing" cruise ship passengers. Taking them to one of the cafe/bars for their 'Island Experience'.
It's a dusty, congested island. Full of shanty shops and guest houses selling everything from beads, tours to swim with sharks, to coconuts and other tropical fruits. While there are no cars on the island, there are dozens of golf buggies operating as taxi's or for hire to investigate the island. The island or Cay has a Rasta vibe to it too.
After a walk around, Jen and I decide to hire bicycles to sight see. At the southern, less inhabited part of the island we stopped under the veranda of an abandoned villa out of the wind, and with shade, for a snack.
The bikes are basic but with comfortable seats and handlebars. It's an enjoyable hour and a half excursion. There are signs on vacant lots with prices ranging from US$55,000 upwards, depending on the desirability of the site.
As in other parts of The Americas, you can buy the beach. Houses built high on stilts protect their right to the foreshore. Despite the approximately 2km long island and much of it still covered in mangroves, there is only a tiny northern end place where the public can swim. It's heavily commercialised.
The water is warm and green but choppy due to the strong winds. There seemed little sense in doing a snorkelling tour in such conditions.
Back to the City.
By 1.15pm we felt we had "experienced " about as much as was practical and decided, after a lunch of a fruit smoothie and a box of chopped up fruit, decide to head back to Belize City. We were anxious to see what progress had been made on our fridge purchase.
Unfortunately we just missed the 1.30pm water taxi back and had to sit for two hours till the next one.
Regarding the fridge. Not a lot of progress, is the short answer. Engel had decided to quote us full price for the new fridge, after offering us a discount when in Jupiter. It thought this was unfriendly and decided to cut off my nose to spite may face, and was a key click away from ordering a larger more expensive ARB fridge, when I checked my mail to find we had had a revised offer from Engel. This reflected the discount previously offered.
So, just how quickly Engel will work for us to get the fridge on it's way, time will tell.
Our camp site last night, a meter from the waters edge and separated by a metre high concrete wall, was most uncomfortable. The strong moist onshore wind made the bedding feel sticky and unpleasant and were unable to erect the Caranex.
By 5pm we chose to head away to a Marina RV park about 10k away on the south side of town. Arriving just as the office manager was leaving, he gave us the run of the place and said, fix him up in the morning. Great attitude. So we have a warm showers and toilets only a few meters away. The odd island cruise boat docked later in the evening.
Hits: 35