The sick are recovering. Not yet quite 100%, but improving. It was decided we would take the day relatively easily. A drive into the historic centre of Puebla and then out of the city to Cholula. Only about 14 kms away.
Getting into the city centre was short and we found what looked like a pretty quiet side street. Asking two shop keepers if it was a safe place to park, they shook their heads. Tim and Dennis decided to move the vehicles around the corner to a smaller street. One of the shop keepers showed me a message he had on his phone in Google Translate. It told us not to park in this area. Our vehicles would be broken into and our possessions stolen. It is best if you go to a car park.
I went around the corner to find another lady telling Tim and Dennis the same story. Then a taxi driver also pulled in to warn us. Off we set again to find a secure car park.
I have to say travelling in this part if the world is more tense than anywhere else we have been. I didn't feel at all unsafe in Mexico City, though. The Metro is well patrolled with security staff. The first one or two carriages on all trains are for women and children only. On our first journey the security staff quickly came and explained we were in the wrong boarding zone, when the whole family were together.
The worries seem to be parking insecure places. Both when we leave the vehicles to go exploring and camping at night. I think Sarah is more safety conscious than Dennis and I. Partly because of the children, but also because they have four bicycles attached to the exterior of their truck, which are more vulnerable.
I have to say, most people we have met have been lovely. Friendly and helpful. However, everyone is constantly warning us to watch our bags and phones and not to walk anywhere at night.
Sarah speaks some Spanish. She is a brilliant negotiator and usually manages to get around the most dour and hostile officials. She is great at bargaining too.
Parking with the assistance of a helpful cyclist, who went ahead of us a led us to a central car park, we set off to explore Puebla.
Our first visit was to the massive cathedral. The second largest in Mexico, next to the one we saw in Mexico City a few days ago. Very different in style though. More tasteful and not so much gold and ostentation.
The historical centre of Puebla is a World Heritage site. Wrought iron balconies, beautiful tiles and pretty coloured painted buildings. Many churches and squares and streets sheltered by large trees. After we had wandered around for a while, it was decided food was required. Not Mexican food though! Finding a restaurant serving Italian specialties, we ordered pizzas. Something soothing and familiar was necessary.
Suitably fed, we made our way to the famous street of candies. All the shops selling sweets. A kid's paradise. The last one was also selling ice creams of every flavour. They had to be sampled.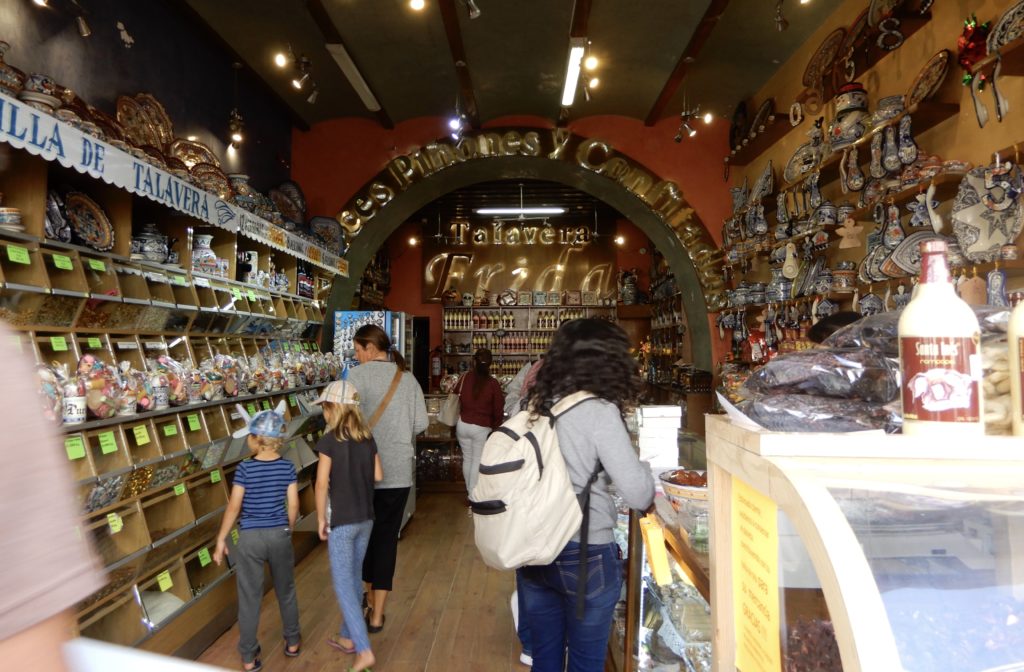 We made our way back to the car park and then set off for Cholula. Only about 14kms away, it still took us about an hour and a half. Heavy traffic and then we could not find the camping place. There were several different options. We were happy with one, but Sarah thought it too exposed. Moving to another we restarted negotiating a rate for the night. It was slightly more secure with walls on 2 sides and toilets.
We are camped right under the Pyramid of Cholula and are going to visit tomorrow morning. We are surrounded by volcanoes. Mexico's most active, Popocatepetl and its twin, Iztaccihuatl. Also Citlalteptl, Mexico's highest peak at 18,491 feet.
Dennis will tell you all about the Cholula Pyramid in his blog tomorrow.
Hits: 38