Last night the motel manager was very chatty. I think he was bored, as there were few guests at the motel. He told me we were the most interesting guests he had had to stay! Later he was talking to Dennis and, apart from being an avid Trump supporter because he has been good for the economy, one of the things he mentioned was that he would not dare sleep without a gun under his pillow! What's wrong with Americans?
Today's ride was through very rural countryside with few towns of any size. Mainly poor pasture land and beef cattle farming. Scrubby trees everywhere. Occasionally, the odd rusting 'nodding donkey' and some gas installations. The townships continued to be very poor and some of the housing is literally third world. I wonder what criteria they use for the economy doing so well? There is little sign of it in these rural areas.
We parked under some large shady trees at lunch time on the edge of a farm. While I was getting lunch, Dennis went to talk to the farmer, who was cutting alfalfa with a huge tractor and mower. Apparently the family farm 4000 acres. Beef cattle and maize and soya are the main crops. They also grow alfalfa and hay for feed for the cattle and sell hay to local, small dairy farmers. Apparently the dairy farmers are not doing well and some are not able to pay for their hay.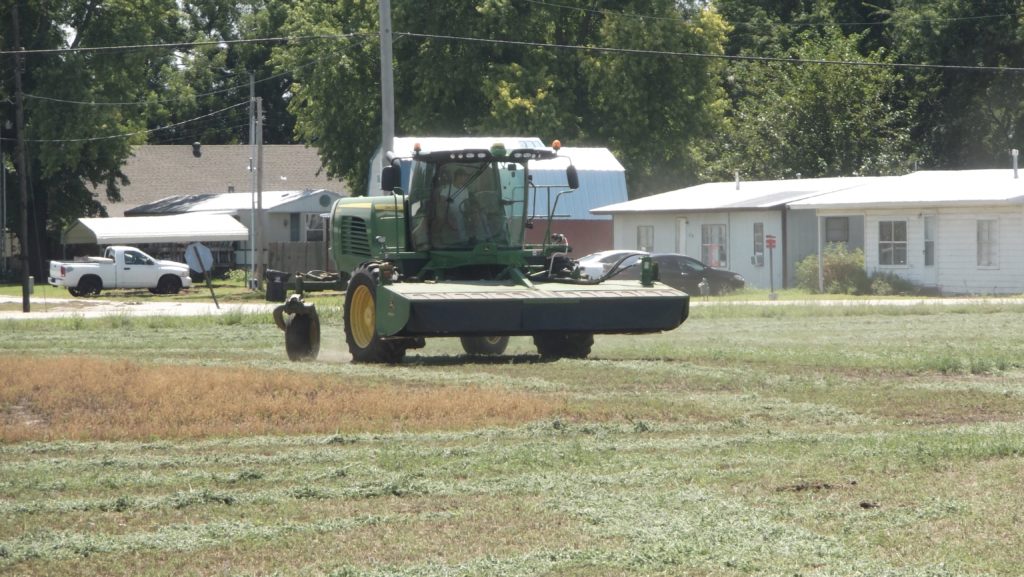 As we approached Oklahoma City, the land became much flatter and more productive with other crops such as cotton. It was a very gentle ride into the city. We seemed to go from being in the countryside to being downtown in the city centre in a matter of minutes. 
Oklahoma City is probably most well known for the terrible atrocity perpetrated by Timothy McVeigh, who blew up the Federal Building in 1995, with much loss of life. According to Lonely Planet, Oklahoma has managed to maintain its cowboy heritage. I have to say we saw no evidence of it. We found it a pleasant, but rather ordinary city with a small downtown area of skyscrapers and the usual urban sprawl of fast food restaurants and commercial outlets lining the roads leaving the city.
I had looked up Rockwell RV Park and Campsite as a possible stopping place, before we left the motel in the morning. It was close to the city, if we wanted to stop and have a further look round. If it was no good it would still give us time to go on and find somewhere else.
It was, fortunately, a nice place. Run by a helpful family. The father gave us a lot of information on the area and the facilities of the Park, which included his herd of around a dozen pet bison.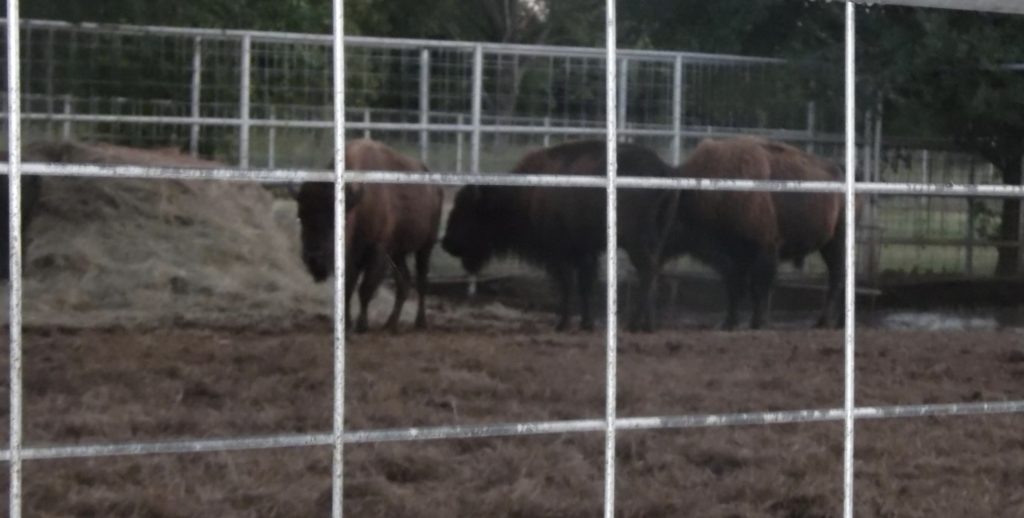 As there was a laundry, I made good use of it and while things were washing and drying we had a swim in the indoor pool. Very refreshing. We were the only ones on the camping side of the park, although the RV side was pretty much full. Everyone inside their vehicles running their air conditioning. Too hot to sit inside the Land Rover for long, so after cooking dinner, we ate outside, before taking a quick walk to look at the pet bison.
It was not a comfy night. Too hot and sticky. Unfortunately the weather forecast for the next week indicates it is going to remain in the 90's F or 30's+ C. 
Hits: 25