This Alpine and Mountaineering Society run campsite, was a credit to them. The facilities were new and though basic, adequate. A far cry from the previous campsite at Foster where nothing would work and it was falling down around you.
After putting some friction modifying fluid in the gearbox and checking the engine oil, we were off at 10.30am.
The plan is to drive through the Catskill Forest Park reserve before heading down to Wilkes Barre then on to Washington City.
With the sat-nav programmed to take us on the shortest route, we were in for one amazing experience. Driving down leafy lanes with all manner of accommodation amongst the trees. Some grand and maintained, some dilapidated and falling down. The first city was Kingston, on the Hudson river. At river level it was all heavy industry. Huge rafts being constructed at the river side. But up on the plateau above, an interesting city. Historic houses but sadly much of it, an African American slum.
Margaretville was our next progress point. I stopped at a local car parts store to buy some gearbox oil. They didn't have what we wanted so I decided to try the service station down the road a bit. Just as I was walking into the store, a Hi Cap Land Rover pulled into the forecourt. The first thing one does is introduce yourself to the owner. This owner happened to be Shaun and he told me he had eighteen of them!! Yes, you could say he has a problem too. Laughing.
Shaun was born in Iran, though five years after we went through, and there was no resemblance..;). He wanted us to come back to his place to see his collection. A nice thought but we had set our minds on covering some miles today.
The next town was Fleischmann and a grand old house that was rotting away down a side street caught my eye and Jen reminded me that we needed tomatoes, so I turned down and went into the shopping and main street. First photographing the house.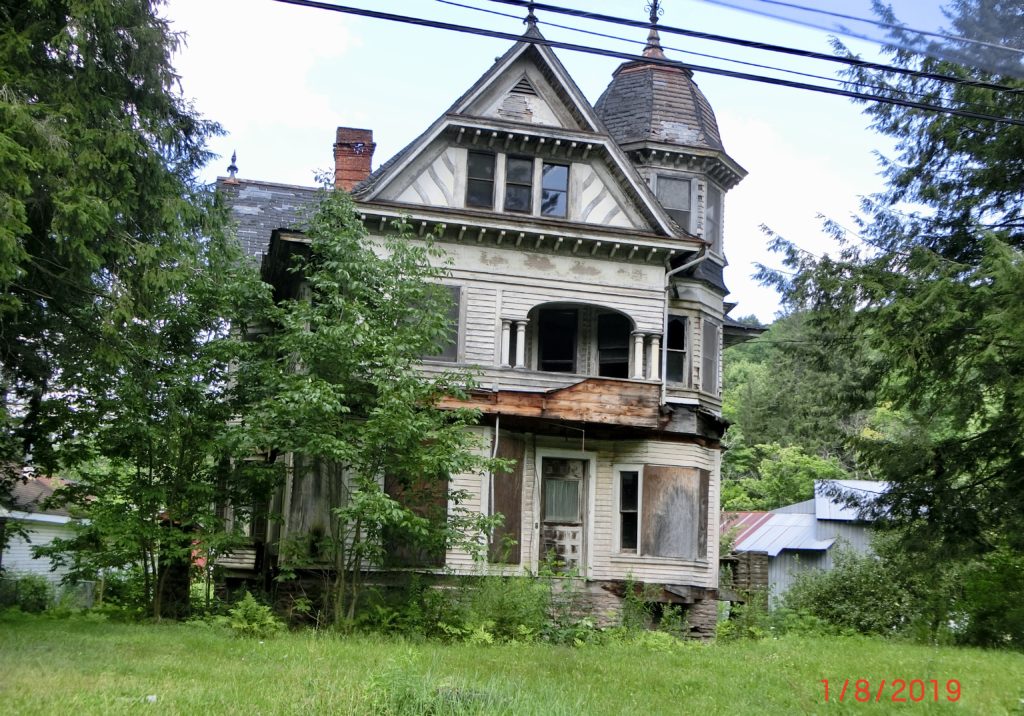 Then a little further down the road ran into two walking. They could have come straight from the Wailing Wall of Jerusalem. Him in his black frock coat with traditional black high hat, black trousers and shoes and side curls, despite the 30deg heat, and her, with a scarf tied around her head and smock, reminiscent of a World War 2 London housewife.
The lunch stop was at a picnic place and we had not long turned in to the car park when someone said, "a Kiwi and a Pom"! You couldn't mistake the accent. Five Kiwi's who have come to New York for a family wedding and were exploring the countryside. Two of the five now live in WaggaWagga Australia. The other three are from Nelson. An observation. How easy and uncomplicated, Kiwi's communicate with each other.
The next town of note was Phoenecia. What a grand name for a decaying town. There was a Vocal Music Festival due to start tomorrow but we were not tempted, seeing the living fossils walking the sidewalks. Am I being unkind?
One of the obscure dirt tracks the sat-nav took us along, after about 3 miles, had a 'Road Closed' sign, which we chose to ignore. Thankfully, the sign was only to deter people like us.
This is heavily wooded country and there are many lakes which we have reason to believe serve the city of New York, many miles further south. With frequent twists and turns, road number changes and time getting close to being time to set up camp, I pulled into a recently mown area out of view from the road above and leading to a barely used quarry. As a camp site, Jen had visions of some nut case shooting us in our bed, so not wanting to start world war 3, set a course for Wilkes Barre still 50 miles away. An iOverland map Jen had found gave us a campsite only 20 miles down the road, but before we reached that, we passed a sign by the road saying 'Campground 4 miles'.
Now we are camped in a beautiful spot right beside a lake. The owners son Johnny, a real character, gave us a fishing rod and it didn't take Jen long to find some worms and try her hand at catching a catfish for dinner. What we had for dinner, was not catfish..:(
What a wonderfully fascinating day it's been.

Hits: 21