After a shower, shave and things, the next job required, clean the Landy. It's been looking pretty crusty lately.
On the road by 11.30am.
It's different, Quebec. It's very very French, and lovely. The little towns are quaint and there is lots of pride in their houses and gardens. It's hard to comprehend actually, that you are in Canada.
The road we chose from Montreal towards Quebec is the quieter of the three options.
Our lunch stop was a beautiful setting by a lake opposite a toilet and complete with wifi. Bliss.
I have been keen to get this electrical issue resolved. The red light on the Solar control panel. After a couple of wasted efforts we zipped past a small garage with a sign that read Auto Electrique. I said to Jen, "this is the place we are looking for". The electrician had his head under the bonnet of an older Lincoln, replacing the alternator. I asked him if he spoke English. "No" he said. "Oh well, goodbye" was my response, and he laughed. Then he called someone on the phone and handed it to me. There was an English speaker on the other end. After explaining my problem I handed it back to Benoit (Benwa). Within a few minutes he was on the case and I think all it was that after changing the battery's around, there must have been some residual power between the panel and controller, as it was fixed in no time. Interestingly, it was harder to start again!!!!!!   Not wanting to make a small job more complicated with poor communication, we thanked Benoit. After reimbursing him, took our leave. He was a lovely guy. 
Just a wee aside for our Canadian readers. Please don't be offended by any comparison comments we make. "They don't have good coffee in Canada"…etc. "Lousy camp site". These are hardly reflective of the country, it's people and services.
A couple of other "projects" that were are trying to tie up. The Pre Filter that we fitted in Edmonton and removed next day. It's proving difficult to find the right replacement. I tried writing to the Donaldson factory in Minnesota. Fredo, responded saying they don't sell to the public and referred me to part of their website that shows agents. Just call on one of them and they will have it for you in a week! Sorry Fredo, we don't do it that way. Tell us who you would suggest we contact in NovaScotia and I will write to them and ask them to order one for me and pay him online or. No response. So I wrote to APS in Dartmouth Nova Scotia, explaining our need and asking them to make contact with me. No response!!! Grrr. Next I will write to their Sales manager.
Anyway, we haven't done too may miles today. 94 to be exact and still 87k's to reach Quebec. It's been a lovely day though. The quiet back roads and town have made it most enjoyable. By 4.30pm we had found a campsite right down beside the St Lawrence River. To say it's a big river, is an understatement, and we are at the narrow part of it. The campsite is beautiful. Facilities are clean and grass mown. Staff are friendly and helpful. Tables, electricity, water and wifi at every site. $37. How to run a business.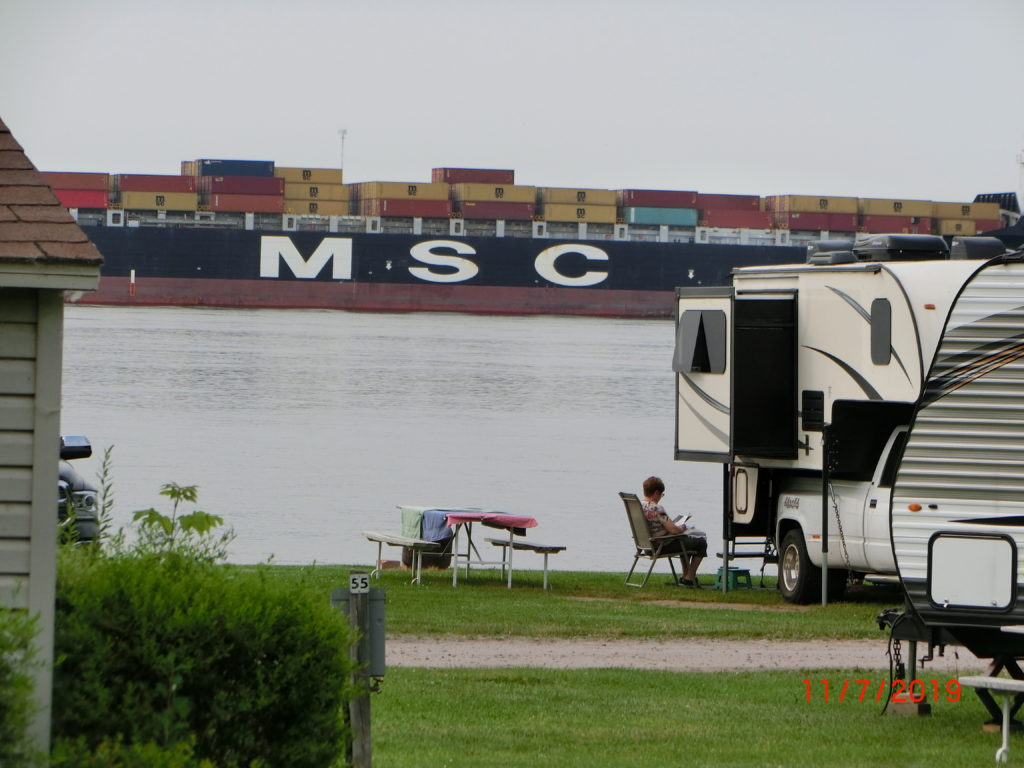 Here is one of the ships gliding past.
Rain is forecast for tomorrow.
Time to relax.
Oh! The most unexpected happened. NZ beat India in the WCC semi's So we play England in the finals…:) Perhaps? Nervous Jamsie..:)
Hits: 15