I made use of the Post Office and purchased some stamps, before we moved off from their grassy area, which had been our resting place for the night.
We took some minor roads to start the day with lovely farming countryside. Mostly arable, growing maize and soya beans. Villages with beautifully kept gardens and the usual acres of mown lawns.
We were close to the Quebec border and all the signage changed from being English first French second to being French first English second. For this reason, when we reached Wendover, I thought we were in Quebec, but the Post Office cleaner, despite being a French speaker, told us it was still Ontario.
We soon left quiet country roads and joined highway 17. Not long after we came to a sign telling us we had arrived in Quebec Province and from then on signs appeared in French only. I find this odd as all over the Western side of Canada both languages appear on absolutely everything. Why should Quebec restrict signage to French only, when there must be so many English speakers passing through? Quebec Province is vast. 7 times the size of France.
We stopped at a tourist information centre and a very helpful lady gave me maps, guide books and written instructions on how to get to Mont Royal. This is a viewing point over looking the city and we thought we would go there first before going downtown. As I had written instructions, I thought we should override the Sat-Nav. Of course, it didn't work as the road we wanted was closed – so many roads we want seem to be closed for roadworks! By now we were in a busy area with heavy traffic. We pulled over and reprogrammed the Sat-Nav. She almost got us there, but with a quick stop to ask for help, we were soon on the right track.
Parking in the shade, we had lunch in the Land Rover before we set off on foot to the viewing point. Montrealers are very proud of Parc Mont Royal, their 'mountain'. It's a sprawling, green playground for cycling, jogging, walking, horse riding etc. A Frenchman, Jacques Cartier, was shown the vantage point by native Indians in the 1500s and called it Mont Royal in honour of the French king.
The view was, unfortunately, quite hazy. It was very hot and humid again and combined with pollution from city traffic, meant one couldn't see very far.
In the haze of the fog we could just make out a mural on the side of one of the buildings. Montreal's famous son, Leonard Cohen. Can you see his mural in the city scape shot?
Next we drove into downtown, but it was already quite late in the afternoon. We had a quick look around a bit of the old town and a few of the cobbled streets. In the square in front of the Basilique Notre-Dame were 2 amusing statues. In one corner an English 'gent' holding a pug dog, turning his nose up at the Basilica and France's domination by the Catholic church. On the opposite corner an elegant French woman, dressed in a Chanel suit cuddling a poodle, turning her nose up at the Bank of Montreal, the symbol of the English's worship of money. The couple were oblivious of each other, but the dogs had seen each other and were showing great interest in meeting!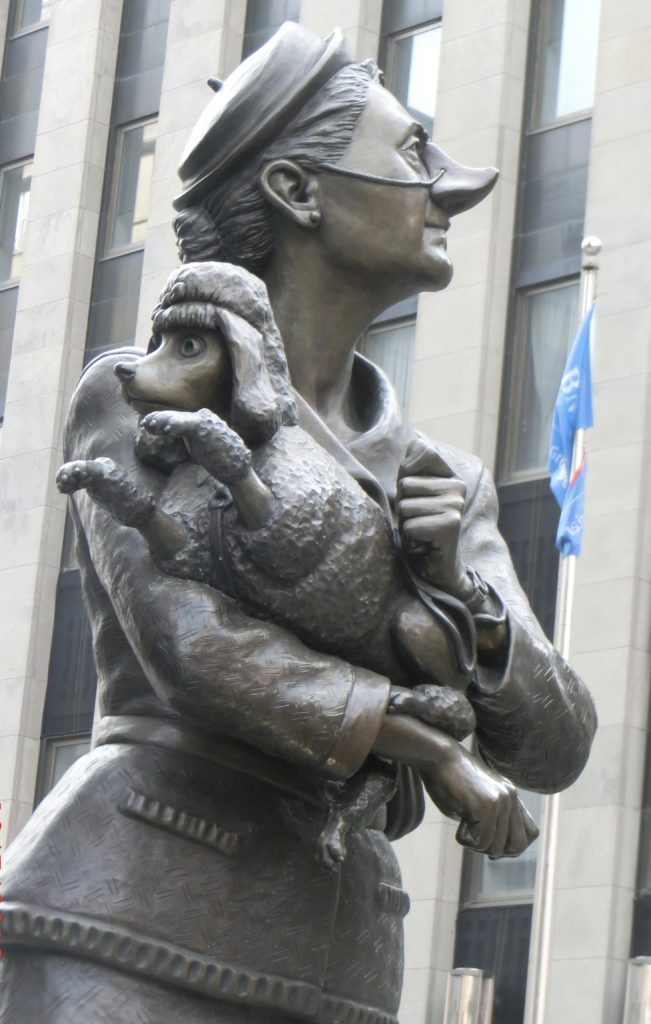 There was a lot more of Montreal we could have seen, but already having seen Toronto and Ottawa in the last couple of days, 3 cities so close together is a bit much! As traffic was building up we thought it was a good idea to hit the road and make tracks out of town. It was slow going. The main route to Quebec City is Highway 20 but we wanted to avoid this as there are a number of quieter alternatives. We started off in the direction of the 20 but at a point where the roads divided we were very pleased not to be taking that route as traffic was stationary for as far as the eye could see.
Heading in the direction of Sorel-Tracy we saw a sign for camping 4 kms off the main road, so as we were feeling shattered, we decided to head for it. Once we reached the site, however, it was enormous with all the what we consider 'unnecessaries'. Swimming pools, water slides etc etc. $60 too. I don't mind paying for good quality, but this and the last 2 campsites had filthy showers and here they were even an extra $1 for a shower. Excessive we feel. But then these type of campgrounds are catering for families who stay for a few weeks in the summer and want all the entertainment. There don't appear to be any sites in this part of the world that cater for overnight campers. 

Hits: 19