It ended up another epic day.  Smooth enough for most of it, apart from the occasional massive hole in the road. Within 200k's of UlaanBaatar it seemed that we were heading towards a serious fire. It must have been serious because it was on such a wide front. No, no one fire but the smog from the city we were heading towards!
Smog, dust, exhaust fumes, you name it. Jen had booked a hotel room en route and we set the online map to guide us to it. Well, that was the theory. It took us 3 hours to travel 6k's. When taking the preferred road we were blocked by a height restriction of 2.2m. It would have been close but the thought of rubbing the top 40mm off the top of the roof boxes, did not appeal. So, how to find our way around it? We eventually found the hotel at 8.30pm.
Two staggering facts. 1st. The whole population of Mongolia is a touch over 3 million, for a country three times the size of France.  2nd. The population of Ulaan Baatar is 1.38 million and they were all driving their cars and trucks and headed the same way as us this evening.
En route into the city we were passed by a tiny Fiat Panda with a Union Jack flag bolted defianltly to the roof rack. A little further on they pulled off the road and we stopped behind them. A young couple from Derby, enjoying the Mongolian Rally. They have been on the road 5 weeks and like us, were looking forward to a hotel room this evening. Sadly we didn't get their names but maybe we will see them heading north to the Russian border and a finish in Ulan Ude.
We have a huge suite in the Zolo Hotel and after a great meal it's clothes washing. Exciting huh!
A little milestone for us today. We have driven 14,000 miles since leaving Wineham 3 months and 3 days ago.
A couple of photos from yesterday. :-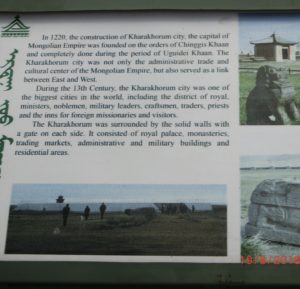 Hits: 35