This is such an amazing country. It feels really seriously remote. It is so vast and so sparsely inhabited. Even on the Pamir Highway in Tajikistan it didn't feel as isolated as this. Just mountains, sky and lakes. Having been quite lost yesterday, we set off down the mountain track for the village we could see in the distance. When asking some locals where we were, we learned we were in Hovd, the next village from where we had started yesterday. We had been around in a big loop. Frustrating, but the scenery had been magnificent.
Pointed in the right direction we left Hovd. Soon after, we met a Volkswagen camper coming in the opposite direction. A young German guy and his Russian girlfriend. We stopped for a chat and then set off again. The problem with the track is that it often divides into 4 or 5 separate tracks to avoid rocks, boggy areas etc. This makes following it quite difficult. What was even more difficult was that we came to a point where the track divided in two.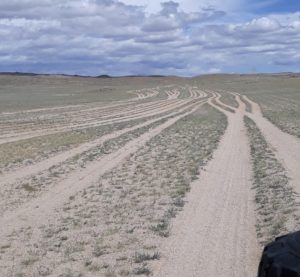 There was no indication of this on our map. We took the Southern track and soon began to wonder of we had made the right choice. A village should have been reached, but there was no sign of any habitation. We stopped for lunch and then continued. Seeing an articulated tanker carefully wending its way up the track toward us, we waved him down to ask for directions. What has become very obvious is that the people we have spoken to have probably never studied a map before. The tanker driver wrote 40 in the sand, which we took to mean the distance to the village we were looking for. Again, we had gone way off track.
We found the village, Omnagov, and then soon after another village, Olgiy – we had started from a town with the very same name yesterday. In Olgiy we thought from our map that we would meet a tar sealed road. It was shown as a major road on the map. No such luck, just another rutted track. Heading north on this road we hoped to find a right turn for Naranbulag. Impossible. Tracks running everywhere and no sign posts. We kept going and suddenly out of nowhere saw an embankment with a tar sealed road on top. We had no idea where it had come from but climbed up on to it and eventually finished up in the town of Ulaangom. Not where we intended to go at all!
We stopped for some provisions and tried to top up our WiFi. Not a very helpful assistant in the supermarket and she didn't have a clue about WiFi, so no WiFi or blog last night. Heading back out of town we saw a flat spot by a small river and headed there to camp for the night. Having put up the tent and started cooking we were soon totally surrounded by a herd of sheep and goats. We're not making a lot of progress in terms of crossing Mongolia, so far.
Hits: 34