There is a song I have been singing in my head all day, with words "on the road again", but I can't for the life of me remember who sings it! Such joy to be on the move again 😊😊
We intended to be up at 5 and on the road by 6am. It didn't work out this way though. The time on my phone wasn't right, so the alarm didn't go off. Well, it did, but 2 hours too late!!!! On the road by 8 though, after a good breakfast of porridge. We stopped for a few provisions. Some bread, cheese, water, a melon and tomatoes. What more do you want! They provided a great lunch in the shade of some trees. The journey to Samarkand was pretty straight forward, but blooming hot. It's cooler here. Only 41 degrees! We found the Bahodir B and B easily, where we are now ensconced – but I can't believe I booked somewhere with no air conditioning!!!! It was quite difficult to find somewhere at short notice at a reasonable price. It's not too bad though, as it has a central courtyard covered in vines and vegetation, which is quite cool and it will cool down at night – I hope.
Having had a refreshing shower, we are now ready to do some sightseeing. Samarkand is one of those magical sounding places I have always wanted to see, but having spent so long in Bukhara and added in Tashkent, where it has been so hot, it has rather spoiled my appetite for more mosques and medressas. Bring on the Pamir HIghway and the mountains.
Now we are back from sightseeing. I think Dennis is all sightseeinged out. We went to the Registan, the awesome centre of the city and supposedly one of Central Asia's most impressive sights. A mass of  beautifully tiled  mosaic walls and azure domes. Three huge Medressas, the world's oldest, facing each other across a large plaza. We walked around the outside walls and saw some people coming out through a small gate.
So, we entered the complex here. Fortunately we had walked all around and taken lots of photos, when we were accosted by a tourist policeman asking us for our tickets. Of course we didn't have any, so we were escorted to the main entrance and the ticket desk. Having seen enough we hot footed it out of there.
While studying the guide book for our next foray into architectural history, Dennis's attention wandered to ice cream. We had 2 huge tubs for the princely sum of £1, after which we found ourselves back in the road leading to our hotel. Dennis could not be persuaded to venture further, so we retired to the Land Rover to cook dinner. Maybe tomorrow morning, if we are up early, we might see some more sights.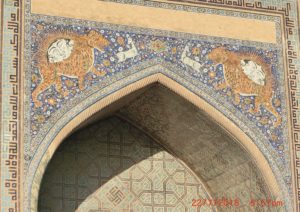 Hits: 46