Last night we watched Russia beat Spain, before going out for a meal. (Not sure they really deserved to win, but that's the way it goes when the decision comes down to penalties.) Obviously, Russia is taking the competition really seriously. The atmosphere was electric with everyone waving Russian flags and a deafening cacophony of honking car horns.
Today has not gone to plan, which means, sadly, not a lot to report. The intention had been to find the Central Post Office and then go to the Museum of the Battle of Stalingrad. We decided to walk, rather than take the Land Rover. Once again it is very hot, although not as humid as yesterday and without the horrid little pesky, black flies the humidity brought with it.
We found the Post Office, after a 25 minute walk, but the parts have not even left Saint Petersburg yet and won't be in Volgograd for another 3 – 4 – 5 days – who knows? Not what we wanted to hear. On enquiring if they could forward the parts on, we were advised "Nyet". They will apparently be returned to sender – eventually!
Next on the agenda was the Museum and on programming Google Maps to take us there, the very helpful lady advised "The Museum may not be open today".  On checking, it's closed on Mondays. A big disappointment.
What to do? Respite from the heat in the nearest bar, of course. Not the most sensible thing to do in this climate, but we felt like it, ordering large, Russian beers and lunch. The bar was, of course, bedecked with flags and football paraphernalia. The waiter was very keen to practice his English, so conversation relating, mainly, to football followed.
Volgograd isn't a picturesque city by any means. Any historic buildings being destroyed during WWII. It's quite a lively place though and we have found more young people here wanting to speak English. On Saturday evening we went to a very trendy cafe/restaurant. We were looked after by a young Nigerian – because he spoke fluent English, of course. He had been here for 7 years studying and was now doing a Master's in Engineering, having spent the first 3 years learning Russian. What is upsetting though, is the smoking. Virtually everyone smokes. On Saturday evening we were seated at a table by the door and watched young girls constantly going outside for a cigarette. Walking around the crowded streets in Saint Petersburg, you had to watch all the time not to touch someone passing you with a lighted cigarette in their hand. Russia has come forward immensely quickly. It is such a shame they think smoking is fashionable and have not learned the harm it can do
Now back at the hotel, Mexico is playing Brazil. We'll go out again for another wander when it gets a bit cooler. Have to be up early tomorrow and at the garage for 0800. Dennis has just got an email from Ilya, advising that if the problem still persists, after they have changed the parts, they may not be able to help us. Their diagnostics machine cannot read any errors in the system, if the vehicle is more than 10 years old. Oh dear! Hopefully, we'll be on the road to Astrakhan later tomorrow.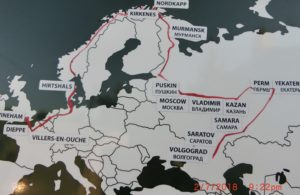 Hits: 18