A fairly disturbed night. It rained with thunder and according to Jen, there were some rowdy revellers in the car park we were camped in. You simply assume you are welcome until someone advises you otherwise, when choosing a camp site. I suspect that land ownership is a debatable issue here and we take advantage of that. I slept through it all till around 5am. The caves tour was an hour and a half long but the first 10min were all that was needed. The gallery entrance was a cavern with the roof covered in ice crystals.
Very beautiful. But caves are a bit like churches, pretty amazing but once you have seen one….  Sadly the commentary was only in Russian so we missed much of it. However Sergey and his wife and Mum joined us and Sergey is leaning English. He was very helpful in giving us a rudimentary overview.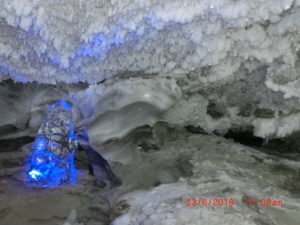 The road from Kungur back to the main road was something else!!! More like a goat track. A taste of things to come I suspect.
Nothing much to report once on the main road except that we came across a semi that had jack-knifed and it had only just happened as the driver was just getting out of his cab and another had  stopped in front of him. WOW! Pretty happy it happened before we got there. Contents strewn up the bank.
Our accommodation in Yekaterinburg is a smallish apartment on the 5th floor of a housing building. Once again, there is a football game in town tomorrow so the prices are sky high. about NZ$100 but beggars can't be choosers. The couch I am sitting on is covered by a brocade material right onto the woodwork..:). It has a TV though and while only small, is showing the Mexico – Korea game and I am happy. No popcorn though..:(. Wish they were playing rugby. Sounds like the All Black's v France game was pretty scintillating in the 2nd half, with the All Blacks putting on 30 unanswered points to win 49 – 14.  Job done. As I write, England are up 6 – 3 over South Africa. Poor Aussie, beaten in the 3rd test to give Ireland the series win.  No, I'm not depressed. :). Jen is happiness filled, she has a washing machine and is trying to understand the Russian instructions..:)We have been driving for 5 weeks and have not yet had a full day off to relax. The idea was to drive for 6 days and have the 7th in repose. Our ailing machine has gobbled up any spare day. I think we are overdue for a full day to relax and change the engine oil. We have bought about a dozen books but hardly read any. I have started a book called 'The Mongol Empire. Genghis Khan, his heirs and the founding of modern China,' by John Man. Excellent writer. Jen has started the book on St Petersburg.
Now 25 – 10 to England with only 5 min to go. There will be some happy Poms tonight..:)
KiaOra
Hits: 42