Two important announcements for the family, today.
First, Happy Birthday to Jaxon. 10 years old today. Congratulations to mother and father for such a beautiful grandson.
Birthday boy.
Secondly and sadly, Jen's youngest sisters husband, Dave, passed away this morning, in Lancing. UK. Dave has been a wonderful help allowing us the use of his busy garage and helping us preparing Poki for various expeditions. Sincere condolences Caroline and family. We will miss his cheery quips and positive outlook. Dave was also a former champion Grass Track racer. RIP.
David Steer. All round, great guy.
Jen mentioned yesterday about my driving technique in deep sand and corrugations. In defence, the ride was much smoother for all, and we certainly covered the ground and excruciating conditions, much more comfortably.
Today we are heading to Pandamatanga. A town close to a minor border with Zimbabwe. There are General Elections happening today, so lets hope all is going smoothly. We'll cross in the morning.
The road from Nata is long and straight. Boring as. Along the way we had passed several articulated lorries from Zambia, heading back north again. Stopping for lunch under a shady tree, they passed us. About 2k's up the road, they were parked with one truck at an odd angle. Oh! and Jen let out a cry of pain, a wasp had gone down her top and stung her in the back. I think she will recover..:)
Passing the trucks, we could see that one had run into the back of another and someone will be out of a job, would be my guess. Either the one following had gone to sleep and not seen the other slowing in front of him, till too late or the one in front braked hard without warning.
On entering Pantamatanga we decided to fill all tanks with diesel. While we don't plan to spend too much time in Zim., Botswana diesel is quite a bit cheaper than Zambian too, so we pulled into a Truck Stop filling station. I'm gad we did, as the diesel was at least one Pula (Botswana currency) cheaper than retail fuel stations.
Tonights camp
Our camp site is spacious and deserted. Jen has a major job on her plate, as the zip on the Caranex gave up the ghost last night. So she is not looking forward to sewing a new one in. One that we bought with us from NZ, in anticipation. We must write to Caranex and tell them, their zips are rubbish…:)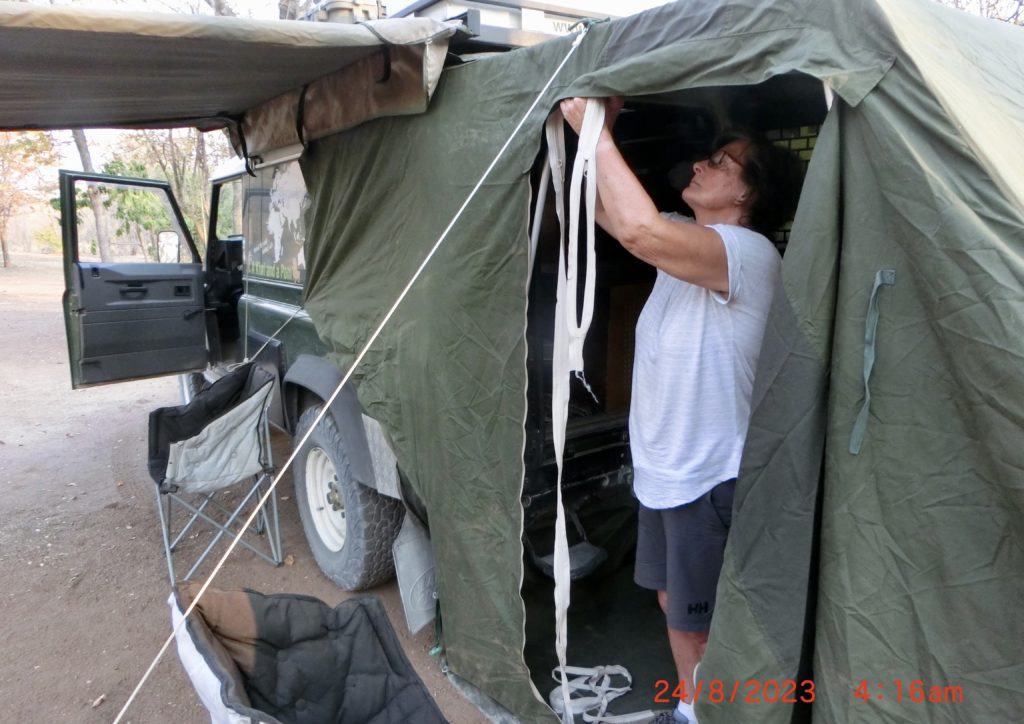 if you look closely, you can see smoke coming out of her ears…:)
Note : We are entering Zimbabe and have no idea if or when we will have wifi. We only plan to be in Zim. for approx 4 days and will report as soon as we can.
Hits: 94