After a lousy sleep last night, there were a few scattered showers then strong winds that woke me during the night, and I could not get back to sleep.
Never mind. By 8am the air was still and there was not a cloud in the sky.
We had the use of a nearby chalet facilities after which by 10am we were on the road.
Something about the roads. They are graded gravel roads. Wide and wonderful to drive on. Poki seems to come alive and in no time we were whistling along at 110kph, which is only like 90 on sealed roads. Long straight roads and only an occasional vehicle passing. Magnificent mountains in the distance and big distances between settlements.
Grunau was the first township. Population I would guess of maybe a couple of hundred. No shops just a hotel and garage.
Fortunately the hotel was able to supply us with a top-up of 3gb @ N$65 for the SIM card Alexandra & Sebastian left us with. It's not easy to purchase a mobile SIM card in Namibia without going through a rigmarole of providing proof of residence in the country or paying someone to use their address. Alex. & Seb. had done that. So, while we have 3gb that will only last us 7 days, at least we have some wifi, when it's available.
Fish River Canyon
Our first destination was Fish River Canyon. En route, a stop at the Canyon Roadhouse. This Roadhouses is obviously an institution as there were a wide array of junked vehicles and paraphernalia, some of which we photographed
imagine driving this back to the farm, from the showroom…:)
This is an impressive crevice in the landscape. About 160km in length, 27k's wide and 550m deep. Yes, it's impressive but one is spoiled having seen the Grand Canyon, which takes your breath away on first glimpse. Probably the best way to visit the canyon is to take a 5 day hike along its floor. Not our scene. There is very little water in the canyon at the moment but can imagine when in flood, it would be spectacular.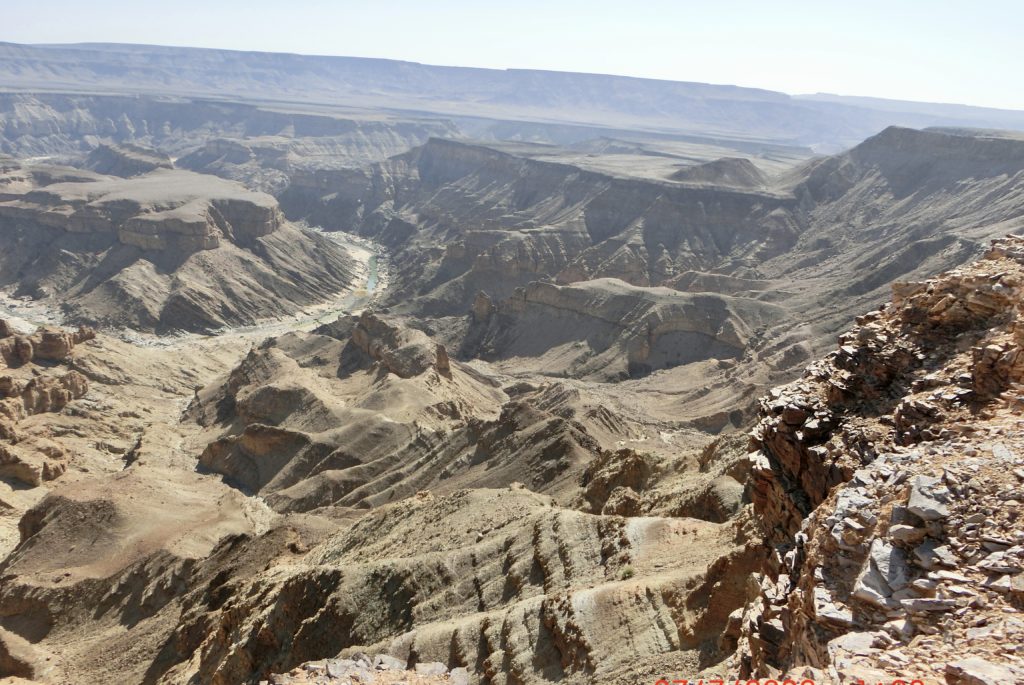 Having lunch close to the edge. Jen insisted on getting out, fearing we were going to topple into the abyss.
She's not sure, is she..:)
Camp for the night.
Next stop and a place to camp for the night, is about 90k's away, at Ai-ais (Ay-I), which is I believe, the exit point of the 85k canyon walkers. One thing we are going to have to learn to do, is top up with fuel whenever possible, as refueling points are few and far between. By the time we got to Ai-Ais we were on orange on the fuel gauge and fortunately we were able to fill up here.
Hot springs
Once camp was set up Jen insisted we walk down to the natural spring hot pools. They were warm but much warmer in the water than the outside temperature, that had cooled significantly once the sun went behind the mountains. There are thatched chalet's and amenities in a wide open camp site. Each complete with running water, electricity and a BBQ pit (Braii).
There must be about 20 campers vehicles here. This is the high season as it would be too hot in the summer. From ute's (Bakkies) with rooftop tents, to camper trailers and even a huge Unimog, with a cabin on the back, like Sarah & Tim's.
Jen is preparing a meal for us and was pleased to be interrupted by a very sweet woman who wanted to know if she had some laundry for her to do? Most certainly, thank you very much. N$100 about NZ$9 for a big bag full.
I'll be looking for a better sleep tonight.
Update.
We have just received communication from Adam. After struggling with the registration of Zikit he has decided not to join us but take a CDC assignment to contain an infectious outbreak of Ebola in the Republic of Congo. Maybe we will catch up with him once back in Durban.
Hits: 73