Today has been an interesting day.
The drive to Dakar full of surprises.
As I mentioned earlier, Sengal is a very different country. Wikipeadia describes it as heavily indebted and poor with a population of 17million. Half of it's expenditure goes in education. This is clearly showing. Children and teenagers going to and from school. All well dressed and animated.
Driving through the towns the women are beautifully presented with striking clean and coloured dresses with matching head dresses. Men too are well dressed. There dose not seem to be the begging and dire poverty
Entering Dakar
Getting closer to Dakar we take a modern motorway. Paying a small fee, it speeds us to the city. Actually, I had set the sat-nav in Europe to avoid Toll roads and it was taking us along a heavily used and very slow alternative route. We realised what was happening and turned back to take the motorway.
There is the usual smog that all big cities attract. That there is international representation here in terms of brands indicates respect for the rule of law. New warehouses and factories abound.
A Spanish couple, Alberto & Angela, who we met at Zebrabar had left for Dakar ahead of us and secured a camping spot for us, close to the sea. They drive a big Mercedes 917 camper, exactly like Sarah & Tim's. They are an interesting couple. Similarly they too are driving to South Africa, then shipping to South America. More about them later, perhaps?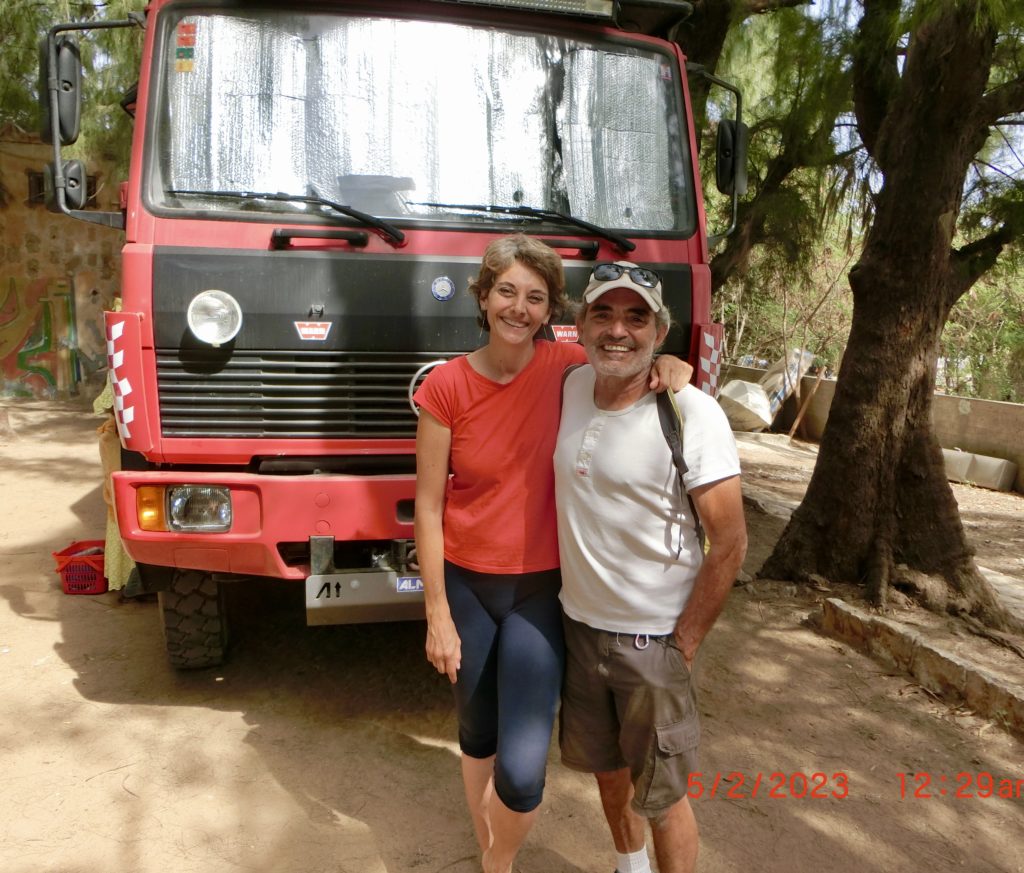 Finding our camp.
Arriving in Dakar, after using GPS co-ordinates for the first time we managed to find the office where our Carnet had to be stamped. At one point driving the wrong way down a one-way road because the road layout had changed, we managed it without mishap. Because its in the port area the there is massive congestion with huge trucks that we have to squeeze amongst to get through.
Adam, with his fluent French is a great help for Jen at the Carnet office, sorting through the minor officials to get the document stamped. Mind you, he was threatened with being thrown out of the office because he was wearing shorts!!
So, we are camped in a confined area close to the city, with Angela and Alberto's big truck beside us and Adam parked at the rear. It's very noisy and there are people wandering through the site, offering all sorts of wares.
Tomorrow we head for the Hypermarket of Auchan, a French supermarket chain, for European food.
Hits: 82