I know it's a cliche, but our summer here in the UK has simply flown. After our trip to France last week, we are now concentrating on finalising refinements to Poki and organising ourselves for our return to New Zealand, via Canada, next week.
We had a wonderful visit to France. The main reason for our visit was to meet Adam, our travelling companion to Africa. First stop on our way down to Normandy was at Le Moulin Fouret at Saint-Aubin-Le-Vertueux. A pretty old watermill with a fantastic restaurant. A chance to sample some excellent French cuisine, grossly over indulge and spoil ourselves.
The following morning we woke to a thick mist shrouding the valley. Murky, damp and chilly. One of those late summer/early autumn mornings that you know will later evolve into a beautiful sunny day.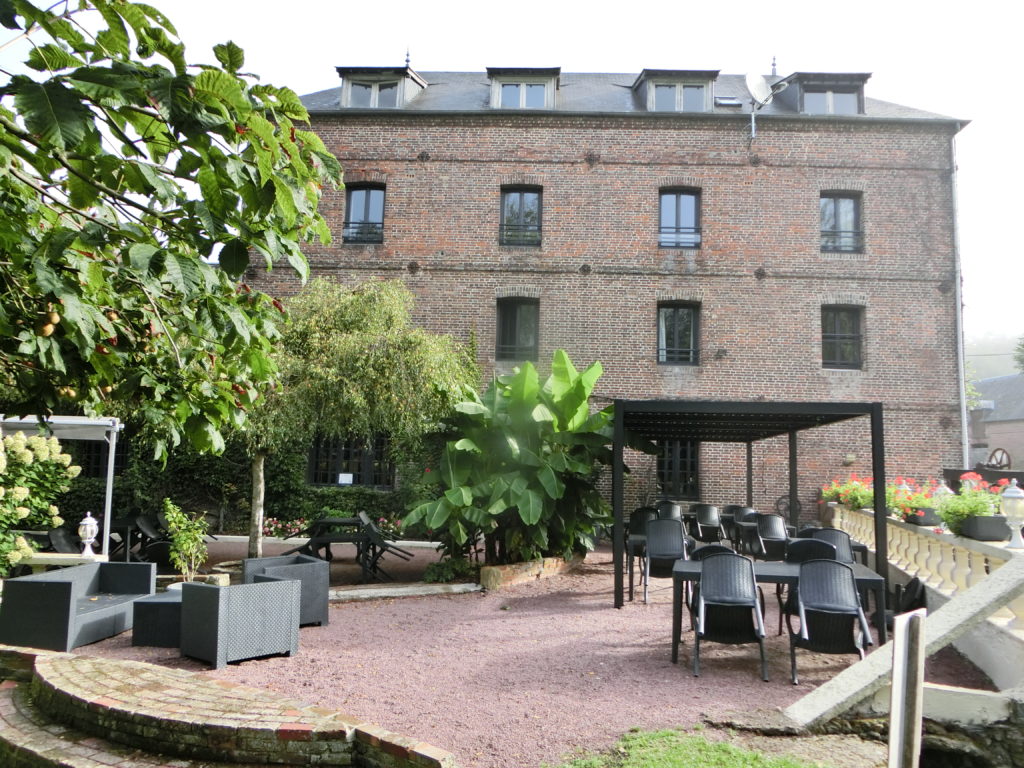 Heading off, after a hearty breakfast, we made our way to friends, Mike and Wendy, at Villers-en-Ouche. Even more over indulgence. Sunday lunch at Mike and Wendy's favourite restaurant, Le Lac des Cygnes at Evroult-Notre-Dame-du-Bois. By now the mist had cleared and it was indeed a beautiful sunny afternoon.
After so much gluttony we needed exercise. A walk around the lake opposite the restaurant, led us to a crazy golf course. An intensely competitive round of golf entertained us for the rest of the afternoon. Mike won – we put this down to him having had more practice on the course. Dare I report that I was second and beat Dennis by a whole point!
Next morning our Sat-Nav took us to La Martiniere, Adam's address. This, however, was not the Martiniere we had visited before, so we were somewhat puzzled. We had arrived at a small farm and the farmer looked equally surprised to see us. He advised that there were no less than 3 properties with the same name within the environs of Belleme.
Meeting.
Finding the correct Martiniere a little later, we were warmly welcomed by Adam. La Martiniere is a lovely property owned jointly by Adam, his identical twin brother, Mark and their step sister. It consists of a main house with 2 converted barns and substantial grounds with a natural, fresh water swimming pool.
Over the next 3 days, getting to know each other better, we discussed all aspects of our forthcoming trip. We agreed on a start date of 5th December from La Martiniere.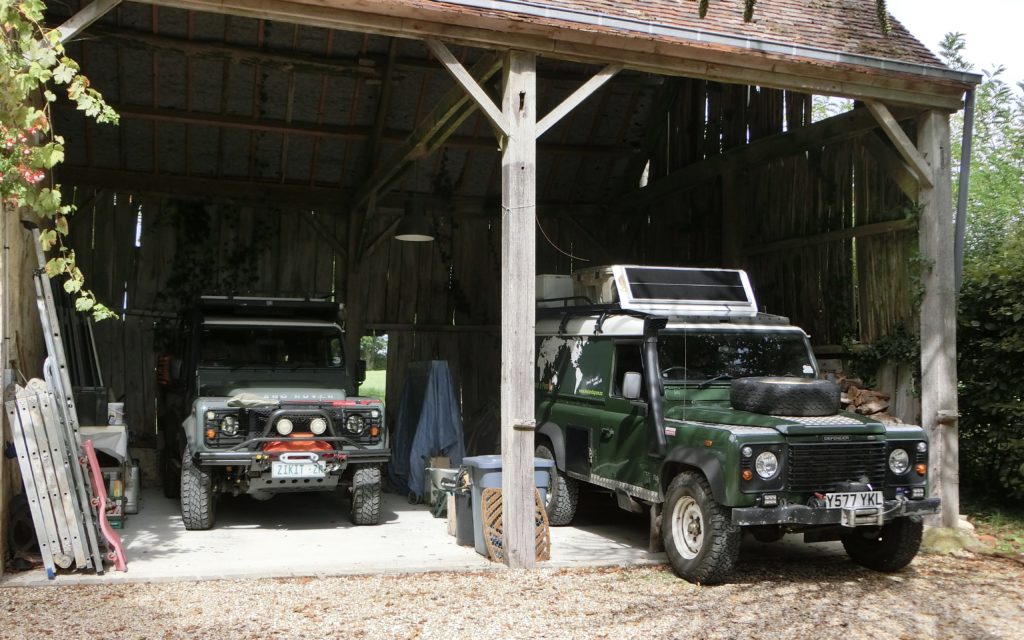 The best part of one day was spent with Dennis and Adam looking at the set up of each Land Rover and assessing whether between us we have the correct equipment for emergencies and the right spare parts. We parked the Land Rovers, which are slightly different heights, side by side to see if the awnings would overlap, which they do perfectly.
Adam had purchased a new tent which was delivered on the second day. We started erecting it, but Adam felt it was far too big and too difficult for one person to put up quickly. He already had another tent, which he decided he will use. He had thought it was missing some poles, but discovered they were not missing, but had just not been positioned correctly.
For light relief in the evenings we watched a couple of films from Adam's vast collection. Thelma and Louise and Florence Foster Jenkins with Meryl Streep and Hugh Grant. A true story about a 1940's New York socialite who tries to achieve her dream of becoming an opera singer, despite having a really terrible singing voice. Funny, but sad.
News update.
Adam had some bad news the day before we left. Mark, who has a Safari business in South Africa had been taken ill while conducting a Safari in Tanzania. Adam had been unable to find out exactly what the problem was, other than that Mark was being flown back to South Africa for treatment.
We returned to Dieppe, camping one night in Offranville, a nice site where we have stayed before and close to Dieppe for an early departure the following morning. We had taken the opportunity en route to visit a large Auchan supermarket to stock up for our last couple of weeks in the UK. Lots of yummy cheeses and a chocolate cake and bubbles for my grandson Louis 18th birthday.
Since returning to the UK we have learned from Adam that Mark has suffered a cerebral haemorrhage. Adam flew to Durban yesterday to find out how serious the situation is and we await further news. We do hope the prognosis will be good.
The day after our return we visited my son, Tim and family, Kate, Louis and Dan. Belatedly to celebrate Louis 18th birthday. We also took him my trusty bicycling steed, my Surly Longhaul Trucker. Louis is going to to smarten her up and hopefully sell her. I was sad to see her go as we have done many thousands of miles together. However, I feel for any future cycling trips we do, I will be better served with an electric bike.
Yesterday we had a sisters and husbands family gathering before our departure. We met for brunch at sister Caroline's daughter, Nat and partner, Mark's cafe, Aroma in Keymer, a local village. Nat cooks everything. Aroma was packed. A testament to Aroma's excellence.
Three days now before we leave for Whistler. We are staying with Dennis's daughter Sarah and family for a week. The first time we have seen them since we were all in Mexico in May 2020, after Covid stopped our Central/South American trip. Sarah, Tim, Charley and Jaxon stayed on in Mexico for several months, after we had shipped Poki back to the UK.
Soon our round the world journey will begin again, in the opposite direction. We can't wait to get back on the road.
Hits: 105