It was great to wake in an air conditioned room and have a warm shower.
After a hearty breakfast it was down to business calling possible suppliers for a new fridge, or parts for the old one.
From our homework done last night and discussions over the last week or so, we had decided that a new fridge from Dometic would give us a wee bit more storage from a similar footprint to our broken one. Google had listed a Dometic's office in Miami, Florida. Perfect, they are sure to have the fridge we had chosen in stock and it would make it much easier to deal with a company with a local office.
Wrong. After calling the number listed we spent 15 min listening to all the amazing offers we could avail ourselves of but when a voice interrupted I was frostily told "this is the sanitation department, call our Cooling department". Me "Can you please put me through"?. "Hold on" and a voice comes on the line, "what do you want"? "I'm sorry this is the head office, we don't sell to the public" Me "Can you simply tell me if you have the refrigerator we wish to buy, in stock" "You can order it online". Me "It's listed as out-of-stock online. "Oh call one of our agents". Me "Can you recommend one"? "Here's a number".
I call the number and a confused individual comes on the line. Me,"do you have any Dometic fridge/freezers in stock"? answer "What"? Me..Do you have any Dometic products in stock"? "No"! "Thank you sir for your time". A slick website doesn't ensure they know how to sell their products, I couldn't recommend buying Dometic shares.
Next call…Engel, the suppliers of the broken fridge we have. Answer, "Hi! I'm Alan, how can I help you"? Within a few minutes Alan had assured me that he had a replacement compressor in stock for our broken fridge, that I could easily fit the replacement myself and that he could send it once paid for, to a local Fedex Office in Miami, where it could be picked up. WOW! So we now have to confirm when the part should be sent to coincide with our arrival, not too soon before, but certainly not after. Let's see how things pan put.
By 11am we were pretty much done on the business side so it was time to take a walk around this pretty amazing city. Merida is the capital of Yucatan and has a strong colonial Spanish architectural presence. Large tree covered squares and narrow feeder streets into wider thoroughfares. Perhaps we should have spent another day here?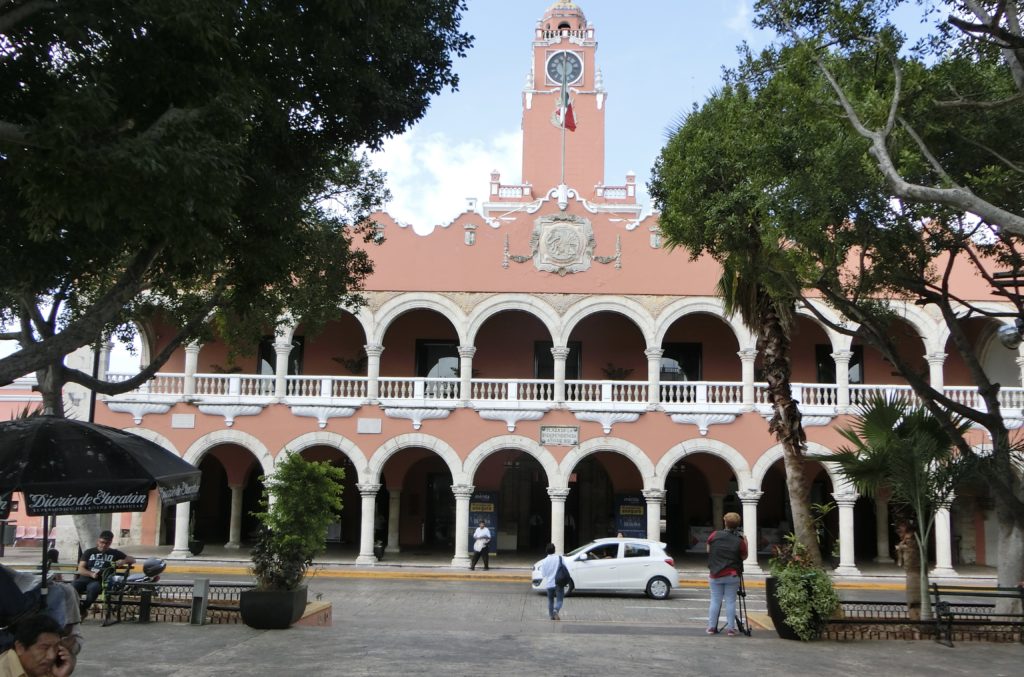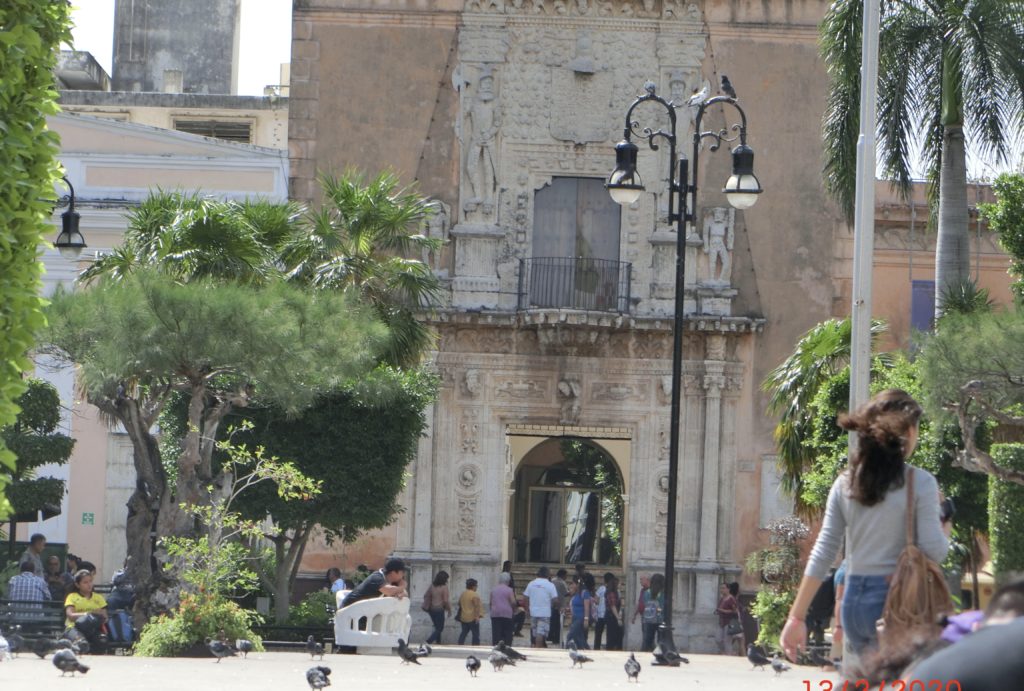 By 12.30pm we had arrived back to the hotel and checked out. The next task was to pump up the tires again. We judged last night that we could just clear the roller door to enable us to park inside the hotel garage. Mmmm… it was close but just scraped the two boxes on the roof. No sense in forcing the issue, so when trying to reverse out, the garage door had tilted slightly and wouldn't let us reverse. The only way out was to let some air out of the tires. Meanwhile, Jen found a broom in the garage and we managed to tilt the door back to allow us to back out.
On the way to meet the others who were parked at another Cenote, we filled the tanks and arrived at our destination by 4.30pm. The family had not long arrived and were heading in for a swim. This is a much deeper Cenote and not as attractive as the last but the water is cool and refreshing after another sweaty 35deg sunny day.
iOverlander says if you are parking here overnight, barking dogs are a hazard to sleep. The are no shortage of dogs about. Not a good sign!

Hits: 34