This morning was a bit different. It was overcast when we surfaced. I also woke up as a septuagenarian. That took a bit of getting used to! A lovely surprise present was to see fellow camper, Mindy, walking across the campsite with a steaming latte, from her Nespresso machine. A great start to the day. Thank you, Mindy. It was a real luxury.
The journey into Portland was very scenic beside the Columbia river. More forested and a narrower gorge than yesterday. We easily found our way into the city centre and to the tire shop where the Land Rover was to have a new set of tires fitted. As we were early, we had lunch in the Land Rover in the car park.
The tires were due to arrive at the shop between 2 and 3pm and as there was no sign of them we set off to visit Logan. Logan is the son of Dennis's very good friend, Bob. Logan and his wife, Jamie, live in a very modern, central Portland apartment with a very nice roof terrace. Seeing us coming, Logan came to meet us – we are pretty unmissable! After admiring the view and having a quick catch upon the roof terrace, we ventured back to the tire shop.
The tires had still not turned up, but we were assured they were on their way and would arrive at any moment. They did arrive shortly after, but were in a consignment of 200 tires to be unloaded. As this would take some time, it was decided we would come back at 10am tomorrow to fit them. Off we set for the hotel we had booked.
Traffic was building up for the evening rush hour by this stage, but our hotel was very central and not far from Logan and Jamie's apartment. We managed to dig out some reasonably respectable clothes from the bottom of our respective wardrobe boxes and had a quick wash and brush up. Logan and Jamie came to pick us up from the hotel soon after.
We headed for a part of Portland called Alberta in the north east of the city – I hope I have remembered this right, Logan? it is a lively area full of different restaurants and food carts with tables on pavements and people having a good time. Our venue was an Indian restaurant with a bit of a difference. More of an Indian street food restaurant. The food was delicious and we had a very convivial evening.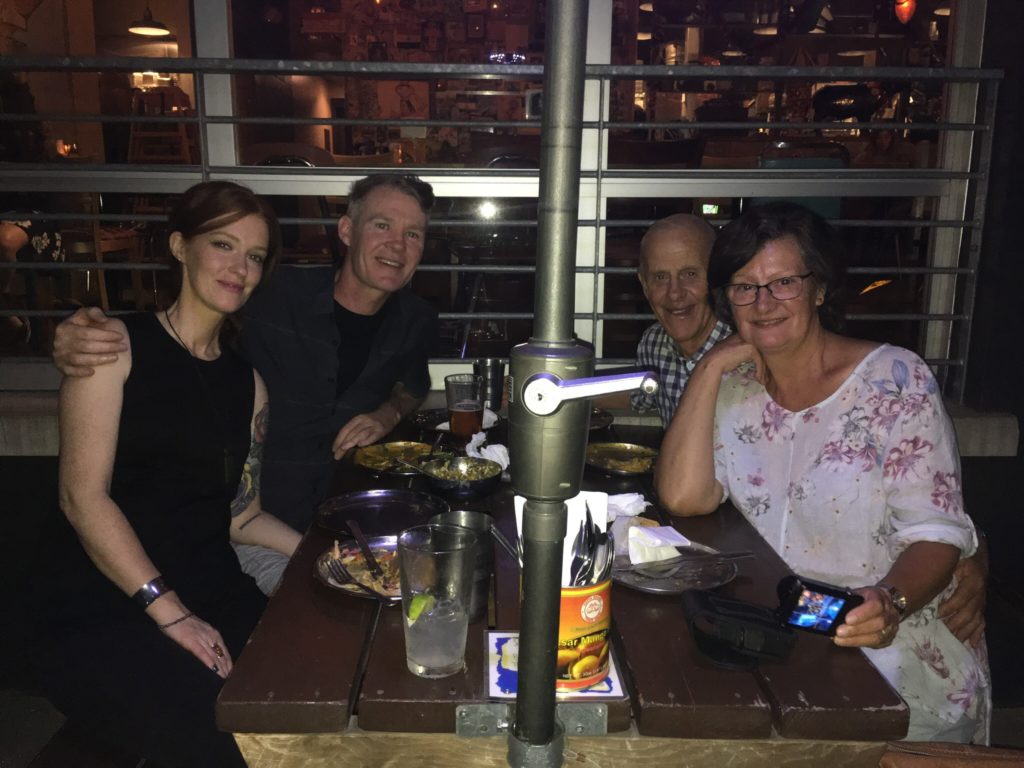 Lots to celebrate. Not just my birthday. Much more important and excitingly the news Logan and Jamie are to become parents in February. A small, high rise apartment is not ideal for a family and so they have been house hunting. Apparently the housing market in Portland is very tough at the moment. Demand is very high and outstripping supply. Logan and Jamie have been looking for a while, but had found an ideal place and put in an offer well above the asking price. While we were eating, Jamie had a call from the estate agent letting them know their offer had been accepted. Jubilation. Even more to celebrate! We were delighted for them, especially hearing the competition they were up against. Another 6 offers had been received.
After dinner we just had to go and have a look at the house. It is in a very pleasant residential area. Being dark it sadly wasn't easy to see too much. Logan and Jamie, we hope you will be very happy there.
Back at our hotel we took some pictures with the Land Rover and said our goodbyes after a lovely evening.
Hits: 49