A beautiful day back on the Skyline Drive. The road is immaculately surfaced, the yellow centre lines and white sidelines perfectly painted and the curves lined with low dry stone walls. The views over the hills and George Washington forests on either side stretch for miles.
The Blue Ridge Mountains have been a favoured spot for recreation since the 1800's. The Skyline Drive and the adjoining lodges and facilities were constructed in the 1930's to provide employment during the depression years.
The forest arches over the road so we travelled in dappled sunlight. Nice and cool on a boiling hot day. Where there are more open spaces and the sunlight can come through, the road is bordered by flowers and there is an abundance of butterflies. Large lemon yellow ones with black markings. They look like Monarch's, only yellow not orange. Sadly, I am not an expert. We get quite upset when they fly in front of us and are massacred by the radiator grill or splatted on the windscreen.
Where we can we glide downhill silently in Maori overdrive (neutral to non-Kiwis). Silently is a relative term. As quietly as one can in a Land Rover. Despite being a tourist route, traffic was very light.
Twice during the morning we rounded curves to find a white tailed deer on the road in front of us. They are such graceful creatures. Picking up their dainty hooves they leapt over the stone walls. A picture of elegance. It was as it their legs contained springs. During the afternoon we saw several more, including a mother and fawn. The mother jumped over the metal barrier and the fawn followed underneath. Bambi are white spotted for camouflage. I thought we would hit the little one. It ran like a pocket rocket and dived into the undergrowth, unscathed. Must have been a terrifying experience for it.
The Skyline Drive led seamlessly into the Blue Ridge Parkway which continues along the crest of the mountains for over 460 miles. We stopped at a Visitor Centre next to the James River, but it was closed. We walked down to the river for a quick look. It is the largest river in Virginia
Driving through parts of the forest, which are predominantly Red Oak, there are areas where the branches are smothered in huge spider's webs. I wanted to stop and poke around in one and investigate what sort of spiders. Dennis wouldn't stop and was being silly telling me they would be tarantulas, or something nasty, that would bring me out in a rash.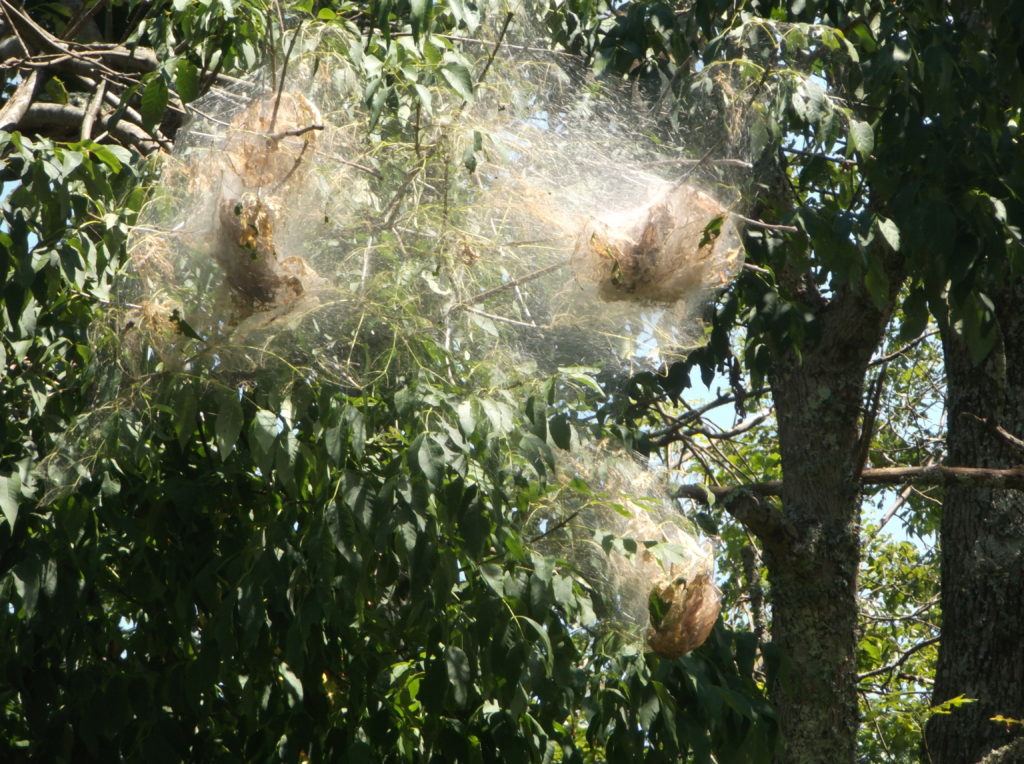 Just outside Roanoke we pulled into the Explore Park Visitor Centre, to get information on the closest camping. We either had to go on for 50 miles, or go back. We don't like retracing our steps. We needed more food – we seem to get through it very quickly, so headed into Roanoke. Easily finding a supermarket, I went to stock up. When I returned Dennis had been online and found an RV Park 10 miles away. Dennis didn't want to go on another 50 miles, so had been in touch with the RV Park to confirm they could accommodate us. From this point, after a great day, things started to go decidedly 'pear shaped'.
The RV Park was located outside Salem (how many places are there in American called Salem?) Salem turned out to be an unpleasant, rundown Afro/Caribbean/Hispanic neighbourhood with an edgy feel. Needing diesel we stopped to refuel. After we left the gas station, Dennis thought a car that had been in the gas station was following us. We pulled over and let it get ahead of us.That was a relief, it was not the same car.
When we arrived at the point where the Sat-Nav indicated the RV Park should be, all we could see were the local council offices. Noticing a caravan parked on a small grassy area, we realised that was the parking place. One major problem. It was right under a motorway flyover with trucks roaring over head. No sleep would have been possible. It was after 6 pm and the Council offices were closed but we managed to get a bit of wifi. Finding another RV Park another 10 miles away, we set off.
Arriving at the next RV Park, it was obvious it was really a trailer park and not a suitable place for us to stay. Dennis went to have a look around. He was ages and I was starting to worry. I have to say I felt safer in Russia than I do in parts of America! Hearing of the 2 more mass shootings the other day doesn't help. Dennis found the Trailer Park Manager, who knew of a campsite about another 10 miles away, Middle Creek Campground. Off we set again with just the exit number off Highway 81.
Passing a motel we thought we would give this a try. They only had smoking rooms, so this was a no go. We managed to get some wifi to get the full address of Middle Creek Campground, only to find it was more than 20 miles back in the direction from which we had originally come!!!!!
Shortly before reaching Middle Creek we came across a sign saying camping at North Creek. We dived down this road, but there was no indication how far away the campsite was. After several minutes we decided if it wasn't around the next bend we would go back and head for Middle Creek.
Just then we found it. A basic site with long-drop toilets and just $12, but at 8 pm it was fine. Quickly erecting the tent, we cooked dinner and hit the sack. Very frustrating we could have driven the further 50 miles south in the same amount of time.

Hits: 20