Not a lot to report today, I'm afraid. A large portion of the day, which was a really wet and miserable one, was spent wrestling with our American visa forms. Trying to get our photographs to comply with the specific requirements proved rather difficult. The first photos we had, the quality was not good enough. Dennis, not to be defeated, got out his camera and took some more. These we could not crop to the right size. With Bill's assistance and an application called Paint, we eventually managed to get the sizing right. This was not, however, until we had taken a third lot of shots. Frustrating!
Later in the afternoon we ventured out to Canadian Tire for some more oil as Dennis thought it was time it was changed. We also managed to buy another fuel tank cap – the other one having "got lost". Next a trip to a drug store to stock up with some more toiletries and the post office. Once back at Bill and Susan's, Dennis got straight down to thetas of changing the oil.
In the evening we went to a pub/sports bar where Bill had arranged a meeting with some of the Edmonton Land Rover Club members – at very short notice. It is only a small club and a horrible wet evening. We were joined by two of the members. Emad, who is originally from the Middle East. He was born in Lebanon and then moved to Kuwait, and came to Canada in his teens and Toze and his son Derek. Toze is Portuguese and has lived in Canada fir many years, Both are very proud to be Canadians. They are, of course, Land Rover fanatics. Emad has 3 and Toze 11. Toze is importing them from all over the world, doing them up and selling them. He finds them everywhere. All over Europe and recently one from Reunion Island. They were very interested to see our vehicle and the way we have it set up for our travels. It was an interesting evening and, even better, the pub served very good food.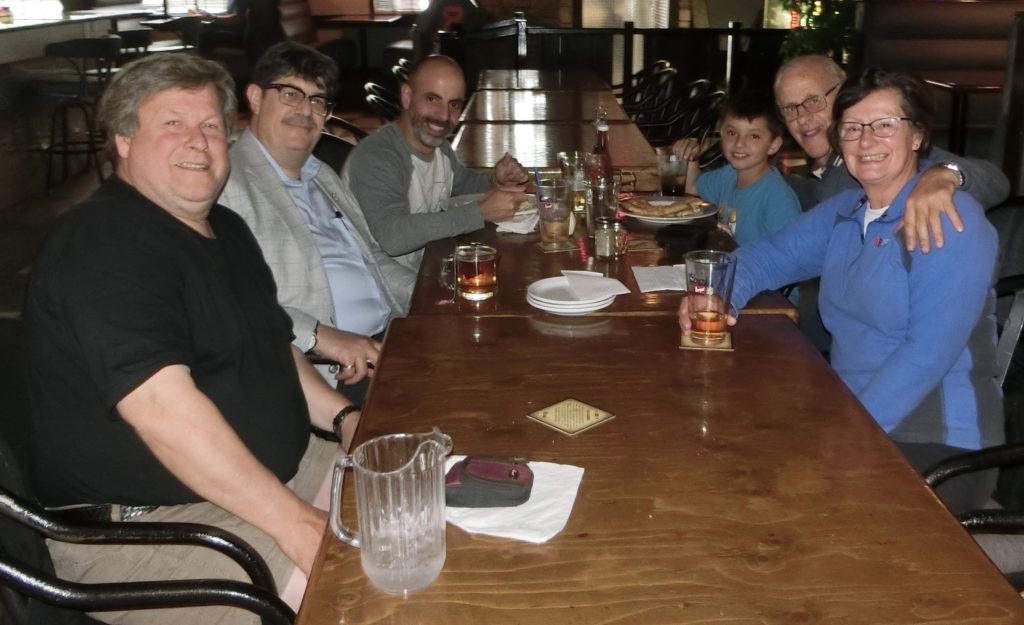 The weather forecast for the next few days isn't good. Everywhere seems to be rainy at the moment. We hear the UK is having storms and flooding too. However, we plan to set off on the road again tomorrow, after having achieved quite a lot of maintenance and restocking issues in the last couple of days.
It was great to stay with Bill and Susan who were wonderful hosts and helped us a lot with advice and sorting out various issues, like our US visas. It was also good to have a break, as we have been on the road for getting on for 6 weeks. Although we love being on the road, it is nice to stop for a break occasionally.

Hits: 23