Later starting as Dennis did some minor maintenance. (No more comments about mechanical issues today!)
Coming south down, the Alaska Highways is a pretty ride. We followed the Liard River for miles. It is quite a substantial river, and a number of other smaller rivers, as the day went on. At the settlement of Liard River there are hot springs, but we didn't have time to stop. We passed Muncho Lake which is a lovely emerald colour. The scenery is very green. There are, where the topography allows, wide green, grassy verges. These have been sown with grass seed and are kept mowed. We expect for a number of reasons. The wide expanse provides a fire break, it looks very tidy and pretty and also, by keeping it short, it could be to discourage the bison from grazing beside the road with the danger they present to traffic when they wander across.
We have been quite lucky with wildlife spotting today. 2 small herds of bison with several calves. 4 black bears, Stones's sheep, which are also quite large animals. Almost the size of a small deer. Porcupines don't seem to have very good road crossing skills. We came across 3 squashed ones.
Lots of beaver dams too, but no beavers again.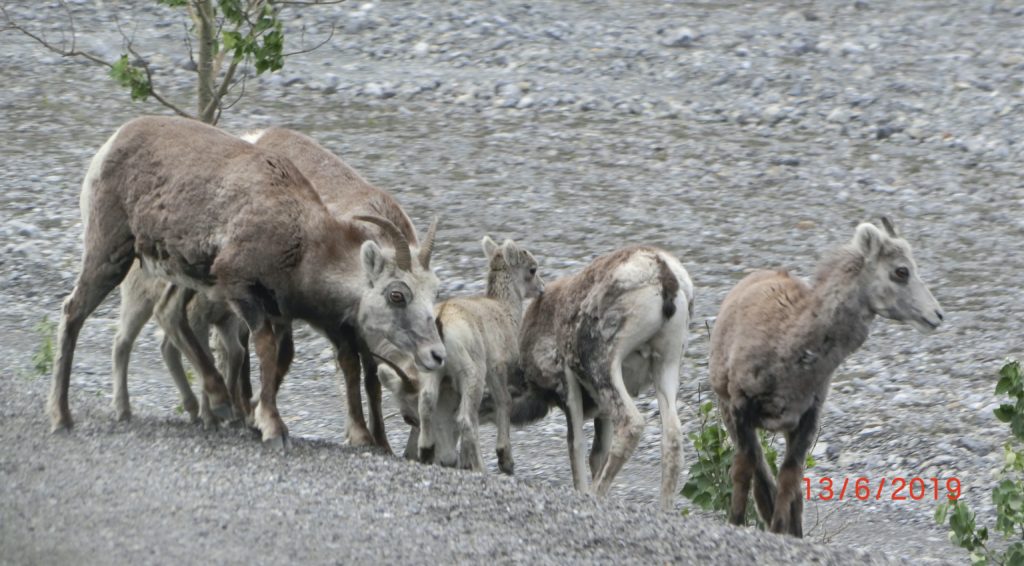 Stone's sheep
Today we thought we should share the driving while we are rushing to get to Edmonton and trying to cover large distances each day.
After our lunch stop we were held up by road works and then miles of gravel patches and then gravel laid on the old surfaced road. It is a miracle our windscreen is still in one piece. Trucks in particular don't slow down. There were stones flying everywhere.
Arriving into Fort Nelson at about 4.30 we headed for the Visitor Centre to get some wifi. There were chairs and a screen set up for a presentation. A tour coach party came in and we watched and listened to the presentation on the history of the construction of the Alaska Highway whilst doing our correspondence. When we left the coach driver and some of the passengers were gathered round our Land Rover marvelling at the map showing our travels. They had ventured from Saskatchewan.
From having the opportunity to catch up with emails, Dennis discovered that the Land Rover Show we are rushing to Edmonton for was last weekend!!!!!!!!!!! So, we have decided to slow down and turned out of the Visitor Centre car park and straight into the campsite across the road. There was a queue of campers and RV's in front of us. The lady in the office said they were amazed at how busy it is already this season. In fact all day we have been surprised by the steady stream of campers of all shapes and sizes on the road. A huge one has just driven past me in the campsite. I am sure it is bigger than the bus Dennis drives passengers around NZ in. Unbelievably you only need an ordinary licence to drive these monsters.
Campers of all sizes pic
Mel, I think it is here in Fort Nelson that you have relatives? There is an interesting looking museum just down the road from the campsite. We are going to have a look in the morning and at the rest of the town.

Hits: 23