It rained during the night and sadly our efforts to waterproof the Caranex have proved in vain. The ponding on the roof is not so bad, but there must to be holes where the water is getting in. We suspect where we have sown the strengthening webbing to the tent. While packing up in the rain, Dennis noticed a small creature poking its head out of a burrow, watching us. Of course it quickly disappeared before I had the chance to see it.
Passing frequent signs warning us of moose, elk and some kind of curly horned sheep, I have been quite disappointed. We have seen none of these. Our first bear was spotted in Whistler by the roadside one evening. Otherwise the only wildlife we have seen were two deer, as we approached Lake Louise.
Our route today has taken us over the Kicking Horse Pass. A very good, modern road. An awful lot of rock blasting must have gone on to create it. Stopping just as a train was coming through, we watched it snaking via the spiral system. The trees blocked the view somewhat though and we could only see one tunnel. The spiral tunnel through the mountain was built to join the track from Vancouver, which was at a lower level, to the track from the East.
Our lunch stop was at Lake Louise, which was still frozen. Very different to what I had imagined. The lake is relatively small and overlooked by the Chateau Lake Louise – a very large hotel. Other than a car park for visiting tourists, there is nothing else. Looking at the signs by the lake, there was one depicting local animal life. The most prevalent creature being the hoary marmot. I wonder if it was one of those peering at Dennis earlier in the day!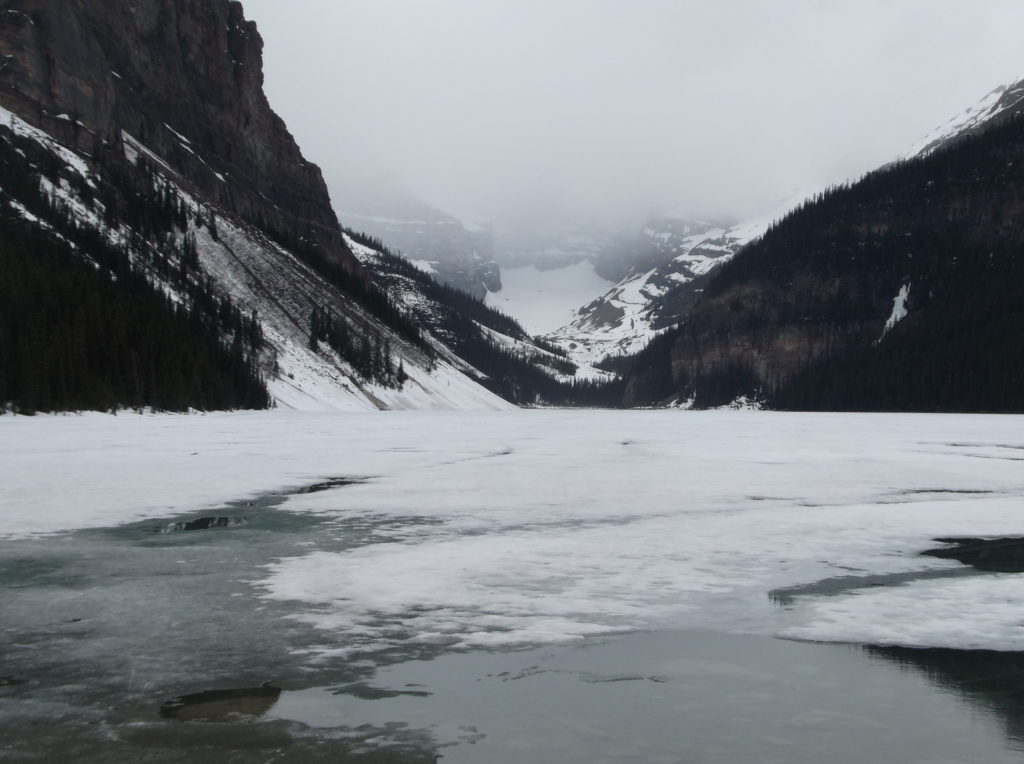 Arriving in Calgary at around 5pm, our Sat Nav took us straight to friends Jan and Bruce's lovely house. Built on a hill overlooking the city, the view is spectacular. Jan is an avid gardener and showed us around the garden, which is just bursting into life. After a superb dinner of Alberta roast beef and plentiful red wine, we played a game of Peg Board. A game neither Dennis or I had heard of. It is played in pairs moving pegs on a board, dependent on the card hand you are dealt. Once we had more or less understood the rules, it was great fun. However, it meant we were late to bed, or late for us at after 11pm.
Hits: 27