Breakfast this morning at the hotel was uninspiring, but then we arrived only a short time before the restaurant was due to close. It is a leisurely morning for us. While Jen was working on her blog for the previous day, I decided to go down and change the driver's side wheels. As mentioned a lot earlier, the front wheels aren't tracking truly and there is inside wear on the front ones. Do you think I could find the wheel brace! I searched nearly everywhere and got distracted doing other things in the process. So by the time Jen came down to check on progress, there hadn't been much. Can you believe that we were in some of the most inhospitable and remote places you could get, and we didn't have a wheel brace to change a wheel?!!!  I can hear my siblings all muttering, "yes, we can believe it"…:). I must have left it on the ground in the hotel car park in Kazan. At least we had a puncture plug repair kit that James and Sarah gave us when we stopped off in San Francisco, back in April, on the way to the UK.
So one of the first objectives this morning when leaving Khabarovsk, was to buy a 28mm socket so we can change a wheel if required to. Well, that was the second most important thing. First we wanted to have a look around the central city area of Khabarovsk. The city (pop 600,000) is built on the banks of the river Amur, which is 2824k's long terminating into the Pacific. It's quite an impressive city. Here are some shots of the Plaza and War Memorial.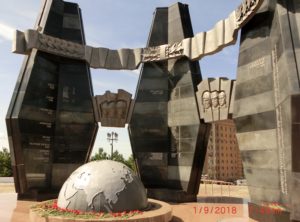 The Russians do memorials in a pretty expansive way. The names on the polished marble panels are endless.
With the touristy stuff out of the way the desire for a wheel brace was overpowering..;) Heading south and out of town we chanced on a tyre repair team and asked if they knew where I could buy a socket to fit the land Rover's wheel nuts. In a flash one of them went into his shed and came out with the right one. The socket off an impact gun and gave it to me. I offered to pay but they were profuse in refusing. Such a lovely thing and typical of Russian people we have come across. Thank you boy's, it was great interacting with you.
Feeling a little more secure, we were on our way to Vladivostok. This has been the main focus of all our plans over the last six years. It's 730k's away and we decide to shave off 200 of them and camp. Leaving a more manageable 500 odd for tomorrow.
By 5pm and with some difficulty, we found a camp site. Not far from the highway but reasonably private. However, within a few minutes a couple of guy's pulled up and tried to dissuade us from camping there. Not understanding their reasons and not seeing it impinging on anyones rights, we decided to ignore their advice and they went off.
It must have been around 10pm when Jen woke me to noises outside the vehicle. Uh Oh! She whispered that something was rubbing up against the side of the car and I heard it slip under the two supporting lines for the Carnex. Bear! I thought. We were right on the edge of a forest and I am thinking it was why the two chaps were trying to advise against stopping there. I slipped down into the cockpit and wound the windows up. Reasoning that if a bear couldn't get a grip on a window, it would not have much chance of breaking in. What do you think?..:)
Another disturbed night, as it was a long time before sleep came.
Hits: 28