On the road by 7am heading for Newhaven. Nearly never made it. Land Rover wouldn't start!! Eventually got it going but it seems to be troublesome since changing a fuel filter two days before. I didn't bleed it properly. Being a common rail diesel it's not easy to bleed the air. Anyway we made the ferry in time and got to Mike and Wendy's around 5pm. Great to see them looking so well. We met them cycling through a town close by about four years ago. Mike heard my pathetic attempt to seek directions in French from a local and came to the rescue. They are English and have made their retirement in a lovely little village in Normandy and they kindly offered us a place to pitch our tent on their spacious property. We visit them whenever we can, as they are great company and we share many common political philosophies. I can hear the groans…:).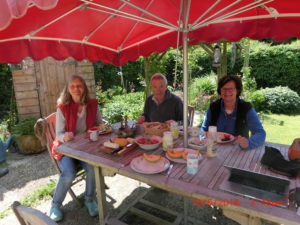 Day 2
This morning we woke to a foggy morning after the best night's sleep in weeks. Land Rover is soo comfortable to sleep in. Porridge for breakfast and more stories swapped and a lovely lunch before we were on the way by …1pm!! A stop off at a diesel specialist to be told he thinks the injector seals are leaking, but I'm not so sure. It's Friday afternoon and the chances of being stranded in a little hamlet for the weekend doesn't excite. We push on and stop for the night in a quiet Municipal camp close to Amiens on the Somme River, Of WW1 significance. Thankfully it's before the school holidays as camps become crowded and noisey with children playing till 11pm, when it gets dark. Something about my observations of French children playing. There is rarely dissent. All ages play vigorously, harmoniously and respectfully.
Only 148 miles for the day. Cheapest diesel 1.40 euro/L. Countryside, industrial scale agriculture, mainly wheat, barley and Rapeseed, rolling and lovely.
Hits: 46